Give Her Quinceanera Distinction With Personalized Ribbon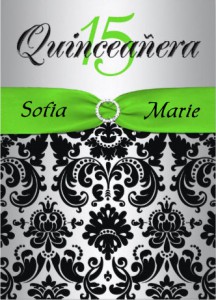 Your daughter's Quinceanera is a once in a lifetime event, celebrating her life and marking her coming of age. With customs that emphasize her new family, religious, and social responsibilities, her celebration acts as a turning point from childhood and shows that transformation through the use of beautiful symbolism, including the last doll ceremony. And whether or not your specific plans include attaching the cápias and cerámicas to her last doll, as a way for her to include her guests in this commemorative tradition, or you present them separately, using personalized ribbon will make her event even more memorable.
Her Court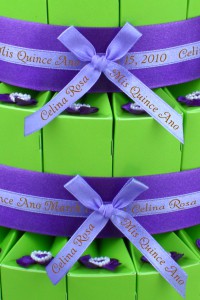 Personalized ribbon will enhance your daughter's Quinceanera and create a subtle distinction for her court. Satin ribbon can be personalized to include her name, her special day, or any other personalized message and is available in various colors and hues, so you can be sure that her colors coordinate perfectly.
Decorations
In addition, personalized ribbon for her Quinceanera can be purchased in large quantities so that you are able to elegantly enhance table decorations, her cake server set, champagne glasses, or ceremonial kneeling pillow with stunningly printed ribbon accents. Adding personalized ribbon to her Quinceanera photo album or guest book continues her theme and makes wonderful mementos that will last a lifetime.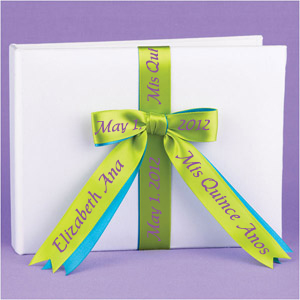 Quinceanera is such an important celebration in the life of your daughter that you want to create an occasion that celebrates her individuality and her journey from childhood to maturity, but like all large parties, the planning and preparation can, at times, feel daunting or downright overwhelming. That's why at Thirty Seven West we can help you order, create, and personalize all of the Quinceanera items you need with personalized ribbon, engrave-able gifts, and customized invitations. Contact our team of specialists today and find out how beautiful her capias can be with personalized printed ribbon.
Please follow and like us: