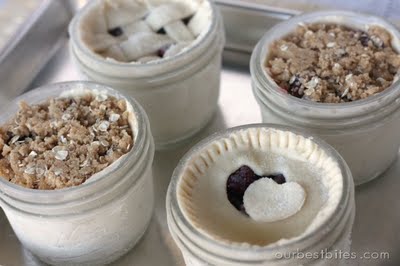 Some of you may have been thinking: why on earth are you talking about food on this blog?  While this is a valid question, let me explain.  People work.  People get hungry.  And working people especially get hungry–even us label-making, gift-personalizing, email-writing people need to eat.  So, we love to eat and share good recipes that you can bookmark for later or try out this weekend.
I recently stumbled on Our Best Bites blog, run by two very charming ladies, Sara and Kate.  With busy schedules and a hunger for tasty food, they've been posting great recipes and ideas for the past two years, including today's recipe for single serving pie in a jar.
Imagine the possibilities.  Pie in the car.  Pie on the camping trip.  Pie at the laundry mat.  Pie in the movie theater!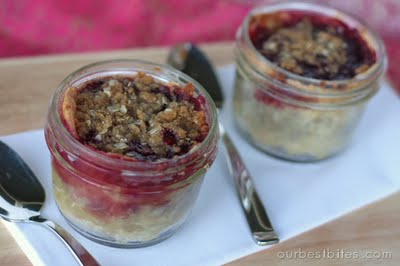 And not only are these perfect to eat all by yourself (note: we are not responsible if your pants don't fit tomorrow morning), but they make great gifts as well.  Adding just a touch of personalized ribbon can make these ideal for friends, family, or anyone.
To see the step-by-step recipe for creating these awesome pies, check it out here.
And a big thank you to Kate and Sara for the recipe and images!
Please follow and like us: