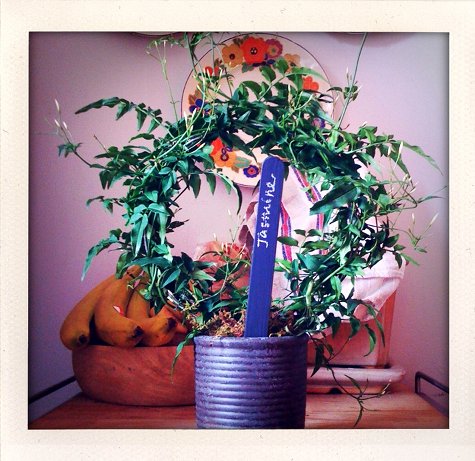 If you're challenged at identifying plants like I am, raise your hand.  It's ok if there are people around you… just raise your hand anyway and tell them you're stretching.
I can't tell the green of a vegetable from another, let alone a plant from a plant.  And herbs?  I have no idea… the only way I know that I've got cilantro in hand instead of Italian parsley is by smelling the leaves.
But fortunately, the creative minds over at Design*Sponge have done it again.  These people are serious about their chalkboard paint and they are all about planting and growing vegetables at home.
Now that we're in planting (well, even some are harvesting) season, these plant stakes are great… You can eat as many popsicles as you want (or you can steal a handful of tongue depressors when you're at the doctor's) and paint them with chalkboard paint.  Then just write away and identify your growing greens without ever second guessing what they are.   It's also nice to eliminate those little plastic ones that you see in planters sold at stores.  Just make sure you buy a water-based, non-toxic brand of chalkboard paint for this project!  For the full how-to, click here.
Please follow and like us: