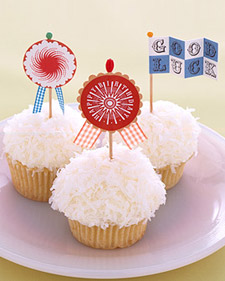 There are so many things to make ready for a graduation party.  From food to favors to decorations, all the while dealing with the fact that your graduate may be leaving home for the first in a few short months, or may be moving onto a full-time career in just a few days.
So because this is kind of a big deal, we've gathered a few different resources for you to celebrate in style!
First off, DIY pinwheels in your graduate's school colors.  To decorate the lawn, show some school spirit, and ensure that no guest fails to recognize the right house for the party, these are a great and simple way to add some flair.  This DIY is actually featured on Style Me Pretty, Abby Larson's wedding styling brain child.
Next, we have two great DIY's from Martha Stewart, including cupcake flags and a graduation banner.  Some people still opt for cakes, but for parties that are on the go and include a younger audience, cupcakes are the perfect sweet to add to your celebration.  These cupcake flags can be made at home, just using your printer, some glue, and toothpicks.  And the graduation banner is a must!  Making your own allows you to experiment with different fonts, colors, and sizes to fit your venue.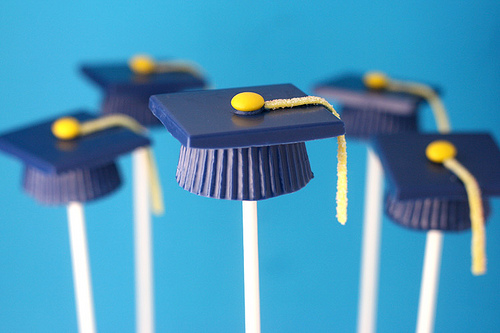 And finally, the DIY that takes the cake… a really cute and fun-to-make idea from Bakerella.  It was months ago that I first stumbled upon Bakerella's site and was totally confounded by the projects she undertakes and shares with the world.  These candy cup caps are a great project to involve family and friends in, and will be a standout item at your grad's party.  And, if you are looking for a more challenging project, you can try her cake pop caps (same link).
So start making!  And check back with us to get a special Friday Eats on some wonderful food for your graduation party.
Please follow and like us: