Well, I'm not surprised to say that Martha Stewart and gang have outdone themselves again!  There will be tons of recipes in this post to cover a broad range of palettes, from fancier get-togethers to backyard simplicity still bursting with flavor.  These recipes are from blogs and sites that I adore, and trust with all my culinary endeavors.  Good luck!
These recipes are the perfect complement to warm summer days and good friends and family gathering around for special occasions.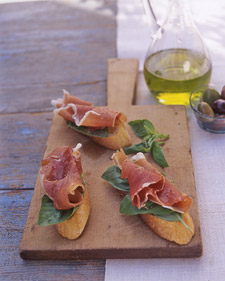 Prosciutto-Basil Crostinis.  I've made my fair share of crostinis, and they've all been more difficult than this recipe appears to be.  The prosciutto and basil combination alone should make your mouth water.  Crostinis are also great with combinations like roma tomatoes and buffalo mozzarella, brie and apple, goat cheese and olive tapenade, and the combinations go on for days.
Shrimp Cocktails.  These are not rocket science.  Really, I promise.  But they are easy, a great cold appetizer, and of course, perfect as a finger food.  You can pair the shrimp with a traditional cocktail sauce, or infuse it with other ingredients, like mango or jalapenos, to make it standout.  Or for a savory, grilled version of shrimp, try Emeril's Lemon-Herb Grilled Shrimp.
Try your hand at an Arugula Salad with Strawberries and Pecans from Ezra Pound Cake.  She (yes, "she" not "he"… her name is Rebecca, actually) has a really neat story behind her blog and her recipes have never steered me wrong.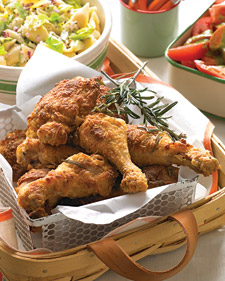 And to round it up, this Rosemary Fried Chicken from Martha Stewart is a slight twist on a classic favorite for any summer get-together.
I hope for those of you who are celebrating big with graduations (or maybe just little, personal picnics and fun), have a wonderful weekend!
Please follow and like us: