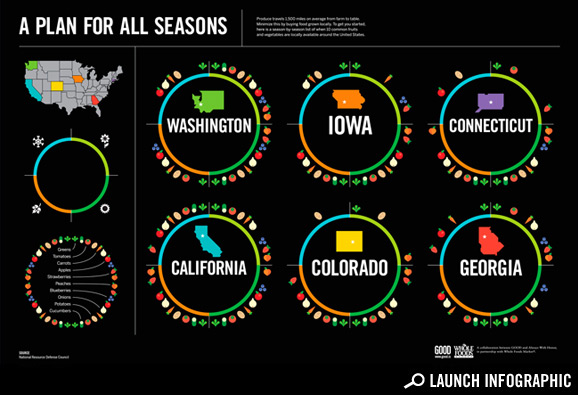 Did you know that broccoli travels for about 7 to 10 days before reaching your local grocery store?  That means that half of your broccoli's life is already gone when you take it home.  If it sits in your refrigerator for a few more days, there's a good possibility that by the time you want to make stir fry, you may need a new head of broccoli.
And if you live in Iowa, for example, chances are the tomatoes you're buying in December are not coming from the surrounding area.  What does that mean?  Extra travel time, of course.
Beyond the mere problem of wasting food, buying produce takes on a whole new meaning when you really look at where your produce is grown.  This affects things like supporting local farmers, reducing energy spent in food transportation, and enjoying fresher foods.
What does this mean for you?  It means that maybe you should buy corn from the farm down the road this summer, guaranteeing that you are getting absolute freshness and supporting a local farmer.  My father would drive 45 minutes for corn from "the farm."  I'm serious, I don't even know the name of the place… we just call it the farm.  It always trumped store bought corn and thanks to local patrons, the farm continues today.
And it means that you may have to become more choosy about what you're eating throughout the year in an attempt to eat the best produce available.  So if you live in Georgia you can enjoy lush, local blueberries in the summer, adding them to your favorite cereal, breads, and smoothies.  But know that enjoying them in November means they've done some traveling.
The folks at Good partnered with Always With Honor and created a neat infographic showing us "A season-by-season list of when 10 common fruits and vegetables are locally available around the United States."  Check it out here and find another equally interesting infographic about food travel distances here.
Please follow and like us: