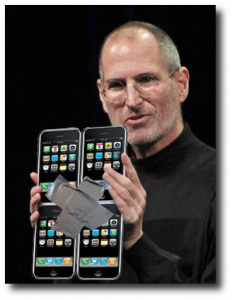 The iPad instantly received some flack when it debuted earlier this year.  Many people said it was a depiction of what you see above: an enlarged iPhone or even iPod touch.
While now I think more and more people are ooohing and ahhing about it, what we've been most interested in seeing is what accessory products emerge for this giant iPhone.  That has been one of the most fast-paced emergent markets we've seen in the last decade—accessories for phones, smart phones, ladptops, tablets, iPods, and every electronic piece of hardware in between.
Over the past few months, I've seen a lot of these different products, and have been totally intrigued with the different materials being used, whether traditional fabrics or recycled ones that are being totally transformed into guardians of your precious electronics.  Some of these products enable you to look as professional as necessary, while others show off a unique style, and some are just designed beautifully, in both aesthetics and function.
Here we list a few of the ones that have emerged, both from large companies and small ones, to highlight what's good for iPads this year.  (Count how many times we say "iPad" in this post!)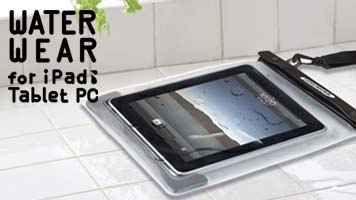 The first thought is that you can use the WATERWEAR product for keeping up to date poolside this year.  But the company actually makes a good point about using this product in the kitchen.  As the majority of recipes have gone digital, rather than print out a copy, you can use the WATERWEAR and cook in confidence!  It's sealed with a zipper, Velcro, and snaps, to block out all water.
—
Het Product is a great product because of its soft wool quality.  But also because it is natural wool, with no chemicals, and it's hand rolled and hand stitched.  De Invasie is set on trying to incorporate fair trade policies and eco-friendly production methods into their products, which is something we can definitely get behind.
—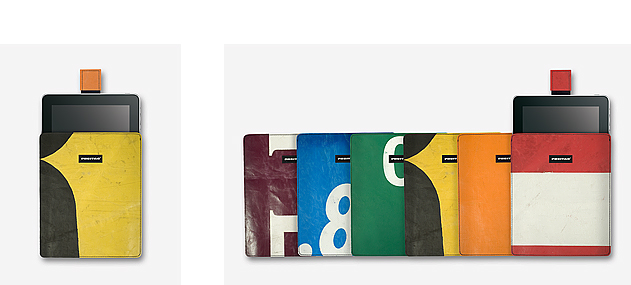 The F23 iPad sleeve is probably my favorite product on this list.  It reuses old truck tarps and matches them in very modern patterns and color schemes.  And the inside of the bag is lined with velvet so that every time you remove your iPad, it's cleaning the surface of any fingerprints or smudges.  Pretty and functional in one is what good design is made of.
—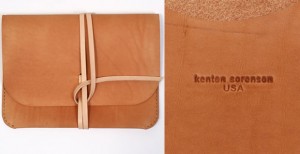 Kenton Sorenson
This is handmade at its finest.  Kenton Sorenson makes all of his products in Wisconsin, piecing leather together by hand in his shop.  According to his website, "Each iPad Portfolio is oiled and conditioned with beeswax and finished with a heavy linen thread side stitch. Kenton's 4oz leather strap closure combines form and function.  The strap can be wrapped around to keep the portfolio open while in use, or looped to a close."  It's a simple, yet bold design.  And as with all leather, extended use of this iPad case will break in the material and the case will wind up with a unique look from all your carrying.
—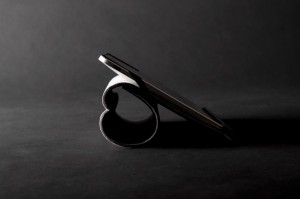 The Tilt iPad case is another great example of function and aesthetics at their premium.  It's not difficult to see the need for a stand sometimes with the iPad, so Hard Graft created a case and stand in one.  Wool and felt create a flat protective sleeve while carrying your iPad, and then roll into a stand which is perfect for reading or elevated typing when you want.  It's been a clear trend that wool and felt are making a comeback, and that grey is here to stay awhile.
—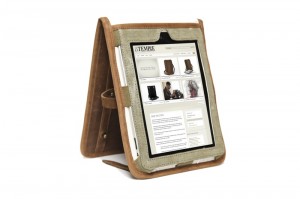 The all leather iPad case from Temple is totally stunning.  While the other cases would probably be slipped into your backpack, purse, or messenger, this one gets carried all by itself—and I don't know that you'd have it any other way.  The soft leather will totally acquire a distressed, unique look and truly, the manufacturing of this bag is superb.  Steve Opperman, Temple's bag designer, has created an impressive product legacy thus far.  Whatever electronic wonder comes next, you will probably see one of his products with it.
—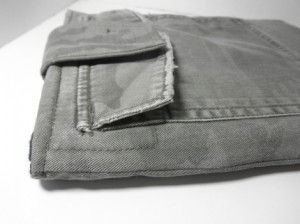 While this product is not as stunning as the aforementioned ones, I had to post it.  I never would have looked at a pant leg and seen the possibility for an iPad case.  The designer has taken care to pad the pants and add a strap to keep the iPad secure during travel.  I have to give credit for the creativity and for the recycling of materials on this one.
—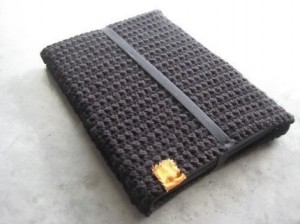 This iPad sleeve just looks comfortable for your iPad!  I mean, your iPad could probably fall asleep and take a two hour nap in this thing.  I love the texture on this sleeve, and the overall simplicity of its design.  The label makes for such a nice contrast color and I can totally see this product being a hit.
Happy iPad-ing!
Please follow and like us: