Pantone is one of the major color trend setters for the fashion, home décor, and a variety of other industries. It influences many of the industries that license art. Using "on trend" colors in their art can help artists get deals. But not all manufacturers are influenced by trendy colors. For instance, home décor products and ceramic dinnerware are not frequently replaced by consumers. And those manufacturers tend to use art on their products that have tried and true color schemes. Thus, artists must be selective in using trendy colors, know the products that use or do not use them, and know what individual manufacturers want – trendy or traditional colors. In other words, do their homework!
Color of the Year
Pantone gets the most press when they announce their color of the year. And believe me, in recent years manufacturers and retailers are well aware what is the color for that year. Manufacturers are quick to showcase their products at trade shows that have at least a touch of that years color even if it is not the exact hue. Note: Because it usually takes at least a year for products to come to market, usage of the exact Pantone Color of the Year is delayed at least a year. In other words, the exact honeysuckle hue (2011 Pantone Color of the Year) will not be seen on products until 2012 or 2013 UNLESS artists were able to predict it a year ago and convince manufacturers that it will be a popular 2011 color.
Pantone poll designers in the fashion, home décor and other industries around the world to forecast the color each year. For information on how the 2011 color of the year was chosen, read "The New Hue for 2011 – How Honeysuckle Pink Was Chosen to Be Everywhere." Supposedly, honeysuckle was chosen because it is a stimulating color that lifts ones spirit due to the stress of the present economic times. Below is a list of colors Pantone selected for each year starting in 2000.
• 2011 – Pantone #18-2120 Honeysuckle (bright pink with a touch of orange)
• 2010 – #15-5519 Turquoise (deep greenish hue)
• 2009 – #14-0848 Mimosa (deep yellow)
• 2008 – #18-3943 Blue Iris (deep blue violet)
• 2007 – #19-1557 Chili Pepper (rust)
• 2006 – #13-1106 Sand Dollar (beige)
• 2005 – #15-5217 Blue Turquoise (medium blue hue)
• 2004 – #17-1456 Tigerlily (orange)
• 2003 – #14-4811 Aqua Sky (light blue turquoise)
• 2002 – #19-1664 True Red
• 2001 – #17-2031 Fuchsia Rose (bright rose)
• 2000 – #15-4020 Cerulean (medium violet blue)
And the Color of the Year for 2012 is . . .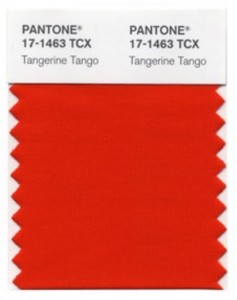 Pantone #17-1463 Tangerine Tango
According to Pantone, Tangerine Tango as a spirited reddish orange will continue "to provide the energy boost we need to recharge and move forward." Read "2012 Pantone Color of the Year" for information about the new color and why it was chosen.  Read "Tangerine Tango could shade the zeitgeist of 2012 as Pantone's color of the year" to find out what the press and retailers have to say about the new color.
And will manufacturers jump to showcase Tangerine Tango on their products at the January 2012 Atlanta Gift Show and other trade shows? You betcha they will IF they already have products with orange on them!
This is a re post of Joan Beiriger's blog.
Linda, the owner of Thirty Seven West, recently purchased a dress quite similar to the one above. It is the same bold Tangerine Tango color. She bought it to go dancing in as well! So keep your eyes open for all of the new fashion that is coming out in this fun color!
Please follow and like us: