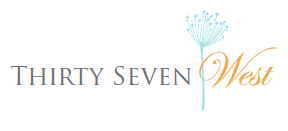 Hi there.  Some of you have known us for years as Labels America.  Some of you have just stumbled upon us recently as Personalizedgiftsjustforu.com.  We are pleased to announce that we are now a combination of both products and services, bringing you the best of both personalized gifts and custom woven labels, as a company now known as Thirty Seven West.  Not only are we poised to grow exponentially as a company, but we have revamped our services and systems to match our unparalleled quality of products.
The reason I'm telling you all this is because, as a fun way to show you who we are beyond labels and gifts, we've introduced this blog as part of our company identity.  At the end of the day, and even the beginning of the day, we are just ordinary people like you.  We drink coffee, eat breakfast burritos, read the news, like to get involved, and know that the world is big and wide and full of so many things beyond our business.  This blog will be a platform from which we'll introduce you to some of our beloved clients, talk food, DIY projects, bring you the best of new design, fashion, and art on the web that we find interesting, suggest causes to get involved with, and just talk to you like normal people!
We want to know what you're thinking, what you're into, and we want to be a part of that.  We recognize that it's a creative, collaborative world out there, and we just want to join in on the fun.
Cheers,
The team at Thirty Seven West
(Psst… Keep up with us on Facebook and Twitter for more fun!)
Please follow and like us: