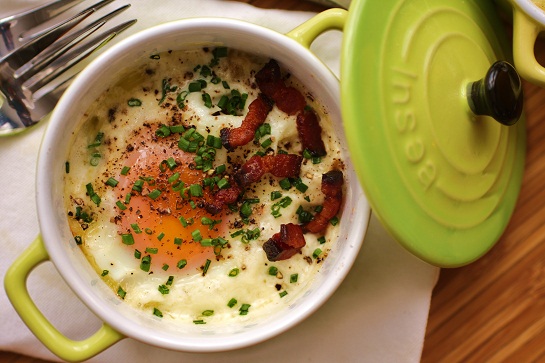 Is anyone else out there wondering what to make their mom for the perfect Mother's Day?  Whatever it is, I can tell you that you won't find it at a fast food chain or your local steakhouse.
Seriously, we've rounded up a couple different recipes and resources for you to create the perfect meal for your mom, whether a light breakfast, a hearty brunch, or even a dinner to remember.  Whether you have an hour or three hours to prepare a celebration for your family, you can find something wonderful in here.  Our feature recipe is Eggs en Cocotte: a savory combination of bacon, eggs, potatoes, and cream baked in a ramekin.  If you're any semblance of normal, I had your attention at "bacon," I know.  This dish comes courtesy of Ceramic Canvas, who I immediately became a fan of for his wonderful photography and the personality of the food he cooks–vibrant, comforting, exciting, and second-helping, please!  For the full recipe, click here.
But, if somehow bacon and eggs and potatoes and cream are not your thing (is there such a world?) and you'd like to try your hand at something healthier, or even a lunch or dinner dish, check out twelve great ideas from Southern Living here.  They cover the gamut from a low country boil to a rack of lamb to a towering chocolate cake.
And if you're still set on the restaurant thing, or if you have a recipe already in mind for your main course, try out this recipe for Blackberry Jam Almond bars from 17 and baking (one of my favorite new baking bloggers).
Hope you all have a wonderful weekend!
Please follow and like us: