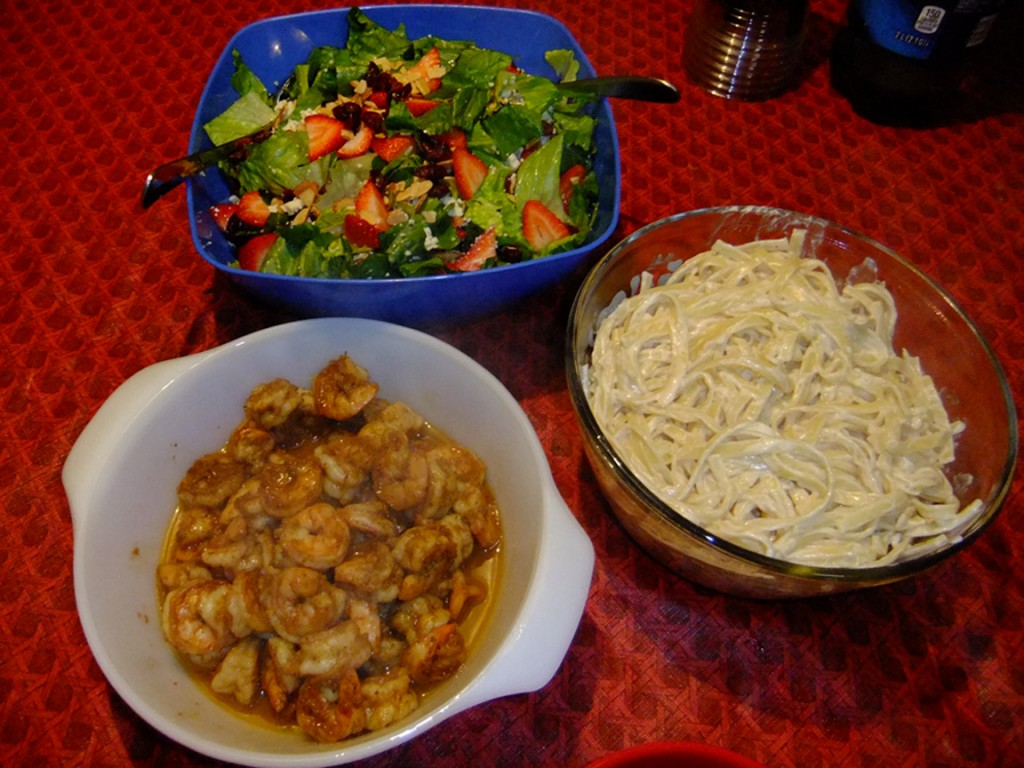 Do you like shrimp? Or any kind of sea food? Then you need to try cooking with Old Bay Blackened Seasoning!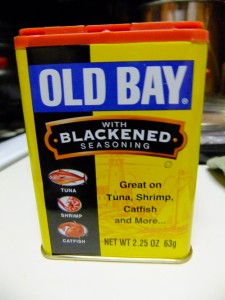 The past few times I've gone to O'Charley's I've had their Shrimp salad with blackened shrimp and I love it! So I decided to make it at home. I'm not sure what they used on their shrimp, but I decided to use Old Bay with Blackened seasoning, which is great for all types of seafood.
O'Charley's version of the salad has fruits and nuts, which not all of my family likes, so I made the salad and fettuccine pasta with alfredo sauce as well, so everyone would be happy.
All three of these recipes are super easy to make. Even when making multiple dishes at once, these recipes are very simple.
I originally planned to cook the shrimp on skewers out on the bar-b-q, but it was pouring when I started to cook. So I decided to use this version instead. Delicious!
Blackened Shrimp:
Ingredients:
 lb large shrimp
1 tablespoon of Old Bay Seasoning
2 tablespoons of butter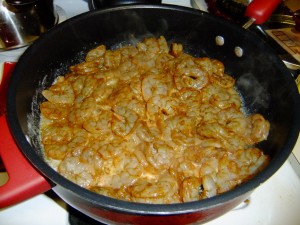 Directions:
Clean shrimp, remove shell and veins.
Coat the shrimp in the Old Bay Seasoning (I just sprinkled the seasoning onto the shrimp in a bowl and mixed, but you can also use a Ziploc Baggie)
Melt the butter in a frying pan and put in the shrimp.
Cook for about 2-3 minutes per side, or until shrimp is pink.
Salad:
Ingredients: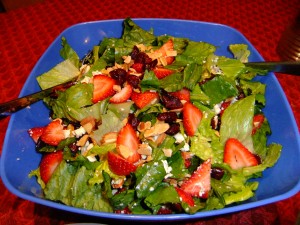 Lettuce – which ever kind you prefer
Strawberries – thinly sliced
Dried cranberries
Cheese- which ever kind you prefer (I use blue cheese or Gorgonzola cheese)
Nuts – Small or sliced, any kind or flavor
Directions:
Chop up the lettuce
Top with the strawberries, cranberries, cheese, and nuts.
Toss the salad
Top with cooked shrimp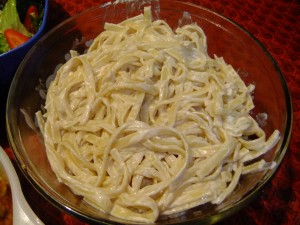 Fettuccine Alfredo:
Ingredients:
1 lb Pasta
1 jar of Alfredo sauce
Directions:
Cook pasta to liking
Heat Alfredo sauce
Mix pasta and sauce together
Mix in cooked shrimp
Normally, I would toss the shrimp in the pasta or lay it on top of the salad, but because I made both I decided to keep it all separate and let everyone mix in their own. And because I have such a big family I doubled the shrimp recipe to make sure there was enough to go around.
I really hope everyone loves these recipes! Try them out and let us know how everyone liked them.
Please follow and like us: