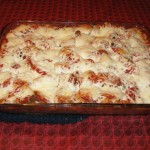 Want to put a new twist on a pasta recipe? Try my version of Pizza Pasta! A few weeks ago I went out to eat at O'Charley's and tried their pizza pasta. It was delicious. And because I love to cook I decided to make it at home for my family. While their recipe was very good, I decided to change it a little and it made it even better!
This recipe is fairly simple and very filling! I make one pan and it's enough to feed my family of 6 and there's plenty of left overs for the next day for lunch.
My mom makes awesome sauce. So when we plan ahead to make this for dinner we usually use her sauce. But I've used store bought sauce and it still comes out great. You can always pick a sauce with different flavors to make it even better!
Ingredients:
1 lb Pasta (I generally use penne, but last time used little wagon wheels)
1 package of pepperoni
1 package of hot sausage links (the ones that come in the pack of 5 links) (if you don't like spicy food, you can use sweet or mild sausage)
About 1 1/2 jars of pasta sauce (if you like a lot of sauce, you can use a little more, if not, a little less)
About 2 cups mozzarella cheese
16 oz Ricotta cheese (if you don't like ricotta cheese, you can always leave it out)
Directions:
Cut up the sausage into little pieces and cook them in a frying pan on the stove and drain (this step takes a little bit of time)
Preheat oven to 350 degrees F.
Boil water and then cook pasta following the directions based on the type you are using.
Once pasta and sausage is cooked, but the pasta in a large baking dish and mix in sauce until pasta is well coated (the sauce doesn't have to be hot because it will heat in the oven)
Mix in sausage and some cut up pepperoni.
Mix in ricotta cheese and a couple hand fulls of the mozzarella cheese.

Pasta, Sauce, Sausage, Pepperoni, Ricotta Cheese, and Mozzarella Cheese mixed

After everything is mixed in, cover the top with a layer of pepperoni and then cover the pepperoni with a layer of cheese.
Bake for about 30 minutes or until cheese is melted

Pizza Pasta covered in pepperoni and cheese

Pizza Pasta

To make this dinner even better, serve it up with a side of garlic bread.

Try out this recipe and let us know what you think! And if you make a couple changes and like it let us know too and I'll try them out next time I make it! Hope you enjoy! And have a great weekend!
Please follow and like us: