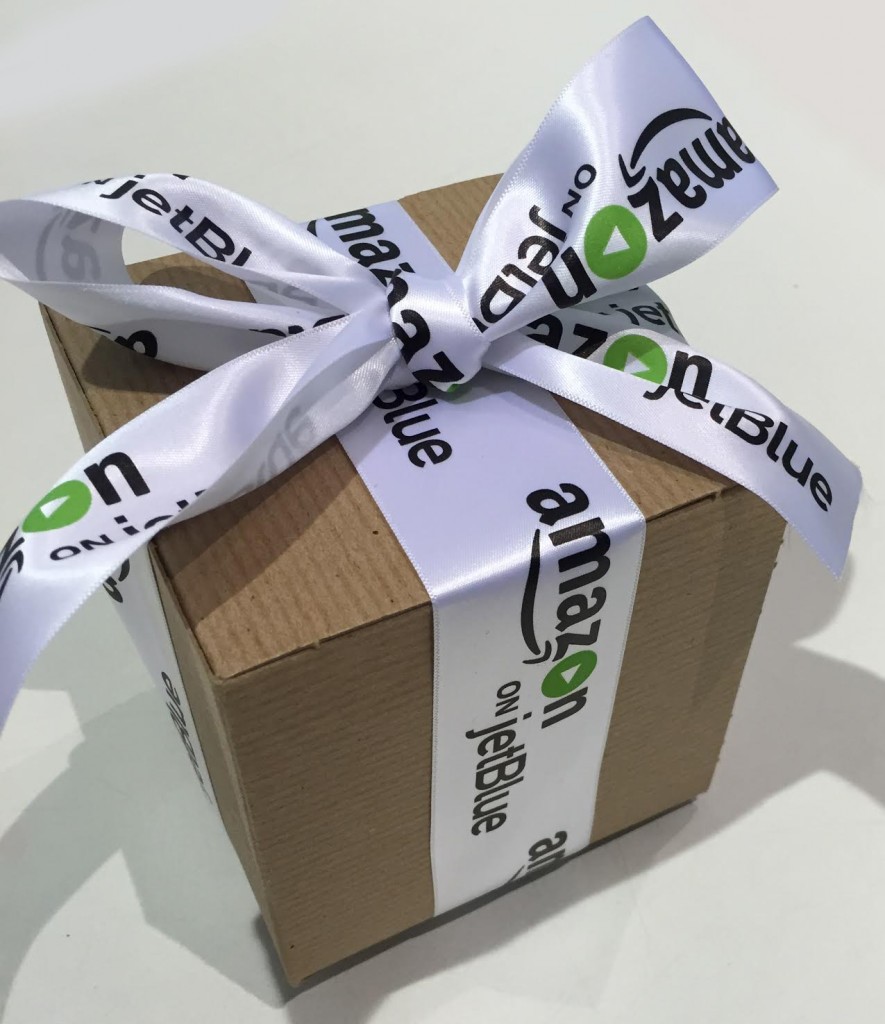 If you are in business, you are always looking for a way to differentiate yourself from your competition.  This time of year gives us a chance to express appreciation to our loyal customers and, if you're clever, a way to stay top-of-mind.
How?  With gifts wrapped elegantly in ribbon—custom printed with your company name and logo. Think about it, any gift you give can be made more special with personalized ribbon. It's a way to put your mark on the same-old holiday gifts.
A poinsettia as a gift?  Nice.
A poinsettia wrapped with branded ribbon and decorated with a big, fluffy bow?  Wow!
With custom printed ribbon, in your company colors and emblazoned with your corporate logo, even a modest gift can be instantly transformed into a unique and stunning gift.
You did remember the client gifts, right?  If you haven't found just the right thing take a look at the selection of gifts we offer.  There is something for virtually everyone.   Start here for some ideas: http://www.thirtysevenwest.com/custom-ribbon/
Let's take a look at some of the options available for customizing ribbon.
What to print on the ribbon?
The beauty of personalized ribbon is that it can be printed with whatever you want.  But why not go with what will help keep your brand front and center?
Your company name is the most logical choice, of course. You could elect to include your company tag line as well. Logos can also be used, but we recommend using only the simplest logos to ensure they are recognizable in small print.
You could also add a holiday greeting.  You might consider:
– "Happy Holidays from Your Company"
– "In Appreciation from Your Company"
– "With Thanks from Your Company"
– "Happy New Year from Your Company"
The possibilities are endless.  We're focused on the holidays now, but just think about the ways you could personalize ribbon with song lyrics, famous quotes, lines from movies….anything up to seven and one half inches can be imprinted on ribbon.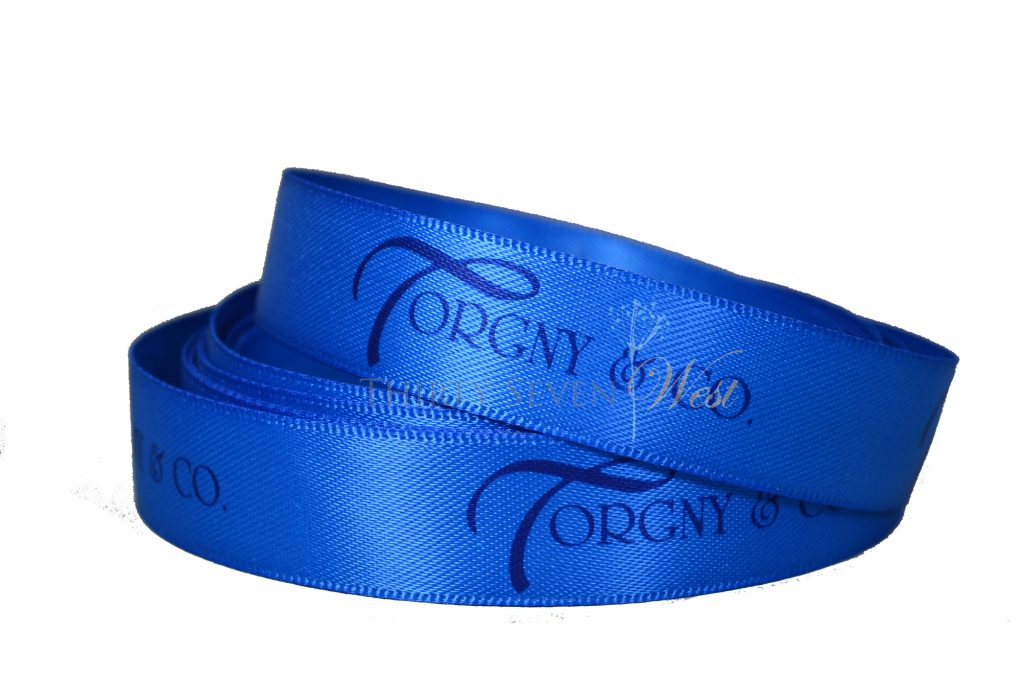 What color ribbon to use?
The assortment of satin ribbons at Thirty Seven West is pretty amazing. There are so many shades and hues available, your biggest problem will be choosing which one you want.
Some colors are stocked in house, and some colors are available by custom order.  We can even match your Pantone colors if your order meets minimum requirements.
While the logical color choice is to go with your brand colors, there are other options you might consider.
For the holidays, it might make be nice go with holiday colors.  At Thanksgiving, any color you see in nature is a good bet, such as shades of gold, burgundy, wine, olive green and browns.  Later, try a Christmas red, Chanukah blue or shade of green always look great on holiday-themed gifts, while white, gold and silver are also traditional choices.
But what if you really want to make a statement, why not try something different? What about pairing a wide decorative ribbon with a slightly narrower personalized satin or matte ribbon that features your business name or logo? Used together, these ribbons give any package or basket a real designer touch.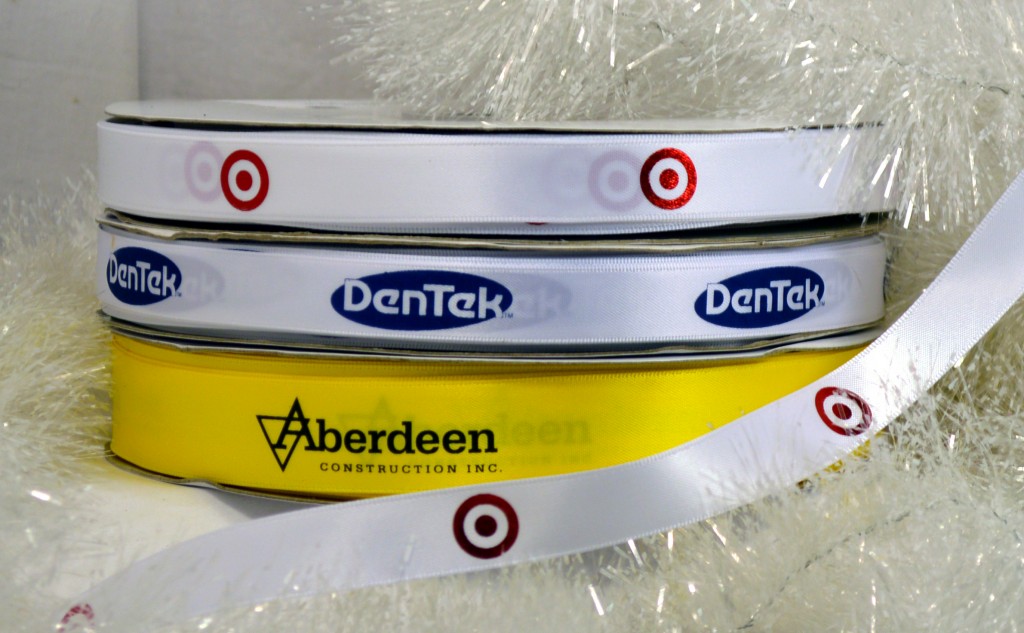 With so many different patterns of print available, there are hundreds of combinations you could create.  From plaids and stripes to polka dots and animal prints, you can create a look that is completely your own.
What type of ribbon to order?
In addition to a number of print and color options, we also offer some choices of ribbon type.
You get to choose between two types of satin ribbon, single faced and double faced. Single faced satin has a shiny side and a matte side.  It is the more economical choice.  Double faced ribbon is shiny on both sides and has more of a luxurious look.
All of our ribbon is of the highest quality satin.  Smooth, supple, with a nice sheen.  A classy addition to any gift.
Order your custom ribbon today!
Is your head reeling with the possibilities?  Good!  Custom printed ribbon is one of the easiest, most useful ways to market your business and reinforce your brand.  You can make any gift you give look put-together vs. thrown together. Even thrifty gifts can look more substantial and leave your clients feeling like they are dealing with a successful company.
Custom logo ribbon speaks volumes about your company, at a very nominal cost.  Order some today at http://www.thirtysevenwest.com/custom-ribbon/.
You'll be so glad you did.
Please follow and like us: