No matter how you spell it, the Jewish celebration is just days away.
Every family has its own special Hanukkah traditions to celebrate the miracle of the oil, which lasted eight days and allowed Jews to purify and rededicate a Temple to God.
It starts on the Hebrew calendar date of 25 Kislev, which this year falls on December 6.
Each night of the celebration a candle is lit at nightfall on the hanukkiyah or Hannukah menorah.
Gifts are traditionally exchanged in families and with close friends for the holiday.  Whether you celebrate yearly, or are experiencing your first Hannukah celebration, we can help you find great gifts for everyone on your list.

Chanukah Gifts for the Kitchen
Attractive and practical, our Star of David Designer Cutting Board is too pretty to hide. The bright graphics and traditional colors make a bold statement for your kitchen countertop. Whether chopping potatoes for latkes or slicing up red cabbage for a salad, these cutting boards can take it.  Made of tempered glass, they are sturdy and easy to clean.
These designer cutting boards would make a lovely gift for newlyweds or new homeowners. Available in two sizes: a smaller version (11.8″ x 7.87″), and a larger size, 15 3/4″ x 11 3/4″, perfect for bigger jobs.
Make mealtime and snack time fabulously fun. Our personalized dinnerware is microwave safe, oven safe and dishwasher safe! Oh, and they're "Mom approved" because they are also BPA free, melamine free, formaldehyde free and approved for food contact.
There are dozens of patterns available, but we're going to suggest you take a look at the Hanukkah Dreidel Stripes and Star of David designs. And 100% of this product is completely made in the USA, in your choice of plate, bowl or platter.
Did we mention the matching placemats? Yes, whichever style you choose, you can also get coordinating placemats for every table.
Cute for holiday treats and makes a terrific gift for the kid that has everything. And yes, you can personalize with name, monogram or initials—if you hurry.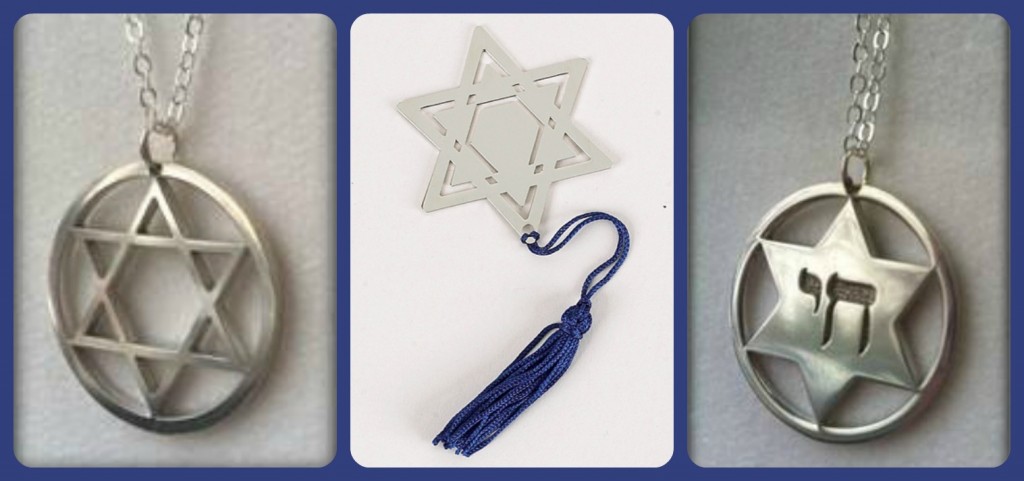 Chanukah Gifts of Jewelry
When you are looking for something really special, jewelry is always a good choice. To make it even more unique, you might consider something made of sterling silver.
Our Star of David Pendant is a classic.  Each is handcrafted of Argentium sterling silver, with a weight of .935 vs. industry standard of .925.  And because each pendant is made by hand, there are subtle nuances in every pendant, ensuring that every piece is truly one-of-a-kind.
We also carry a Star of David with Chai Pendant.  Chai is the Hebrew word/symbol for life.
The pendant itself is just under one inch in size (actually 23mm). It is also thicker than standard sterling jewelry, making it sturdier and more substantial.  (Our pendant: 1.7mm vs. industry standard: 0.7mm)
Both pendants are made of Argentium sterling silver .935 and with both you also get to choose a 16″ or 18″ sterling silver chain.
OK, so it's not technically jewelry, but our nickel-plated Star of David Bookmark is pretty enough to be in the same category.  It has a lovely design that is both intricate and sleek.  The deep blue tassel will always help you find your place in any book.
The bookmark can be engraved to create a personalized gift for a friend, book club member, or even a teacher.

Chanukah Gifts for the Home
If you're looking for something different for this holiday, what about one of our stylish pillows?  These throw pillows are so attractive, you'll want several for the couch, the chair, the family room, the kids' rooms….(you get the idea.)
Just look at these Chanukah themed throw pillows we've found for you.  Beautiful in shades of blue, these are so cute you'll want to leave them out all year long.  The pillows are 18″ square and the cover is removable.  Of course, there are many more styles and colors to choose from.
Other Gift Ideas for Chanukah
There is nothing that says a gift for Hannukah must be Chanukah-centric!  Thirty Seven West has a huge selection of gifts that could be the perfect thing for celebrating any of the eight days.
Great Gifts for Kids & Teens
Great Gifts for Women
Great Gifts for Men
Great Gifts for Anyone
But hurry!  Chanukah is almost upon us; it starts December 6.  Order now, with or without personalization: http://www.thirtysevenwest.com/personalized-gifts/
Please follow and like us: