In today's garment industry, there is a huge need for more choices for finding and creating the best custom woven labels for you. So when you order from Thirty Seven West, you may choose from a variety of materials and finishes for your custom woven labels. We can also match your logo, branding, and Pantone colors to the thread colors for a seamless look for all of your advertising matrixes.
Click here to Read the Importance of Custom Woven Labels
But before you embark on this splendidly effective marketing task, you should ask yourself a few questions concerning how your label should look and feel, and what type of image you want your fabric label to project. Because let's face it, if your custom woven label is your business card, often the only one that people will see, you want it to generate a specific impression about who you are and what you do, but also include the information about where to find you.
Prior to contacting a label manufacturer you should ask yourself some simple questions. You'll already know most of the answers if you've created a business plan, but if you haven't…no biggie! These questions can help you in that aspect too.
Here are a few ideas to consider before you get started:
What or who is your target market or audience?
Knowing exactly who you are marketing your products to can make a huge impact on the way you design your personalized garment tag. Are your products made for the savvy homemaker? Do your fashions appeal to the latest, trendiest teens, or are they geared toward a more mature customer? Whatever your target demographic may be, you can create a customized cloth label that charms and entices all at once.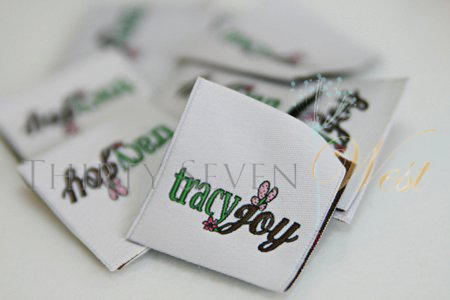 Who are you appealing to?
Who is that ideal individual who will look at your product and say "ahhhh….this is exactly what I've been looking for! This will go perfect with my: living room, little black dress, favorite jeans, or dining room redecoration…OMG, I've just gotta have one of these!"
What look do you want to convey?
What personality, idea, cause, or concept do you want your customers to envision when they see your fabric label? Keep in mind that the impression will be instant, so you'll want to create a personalized garment tag that conveys your image in a glance, but that also includes easily discernible information about where to find you, your business or your charity.
Please follow and like us: