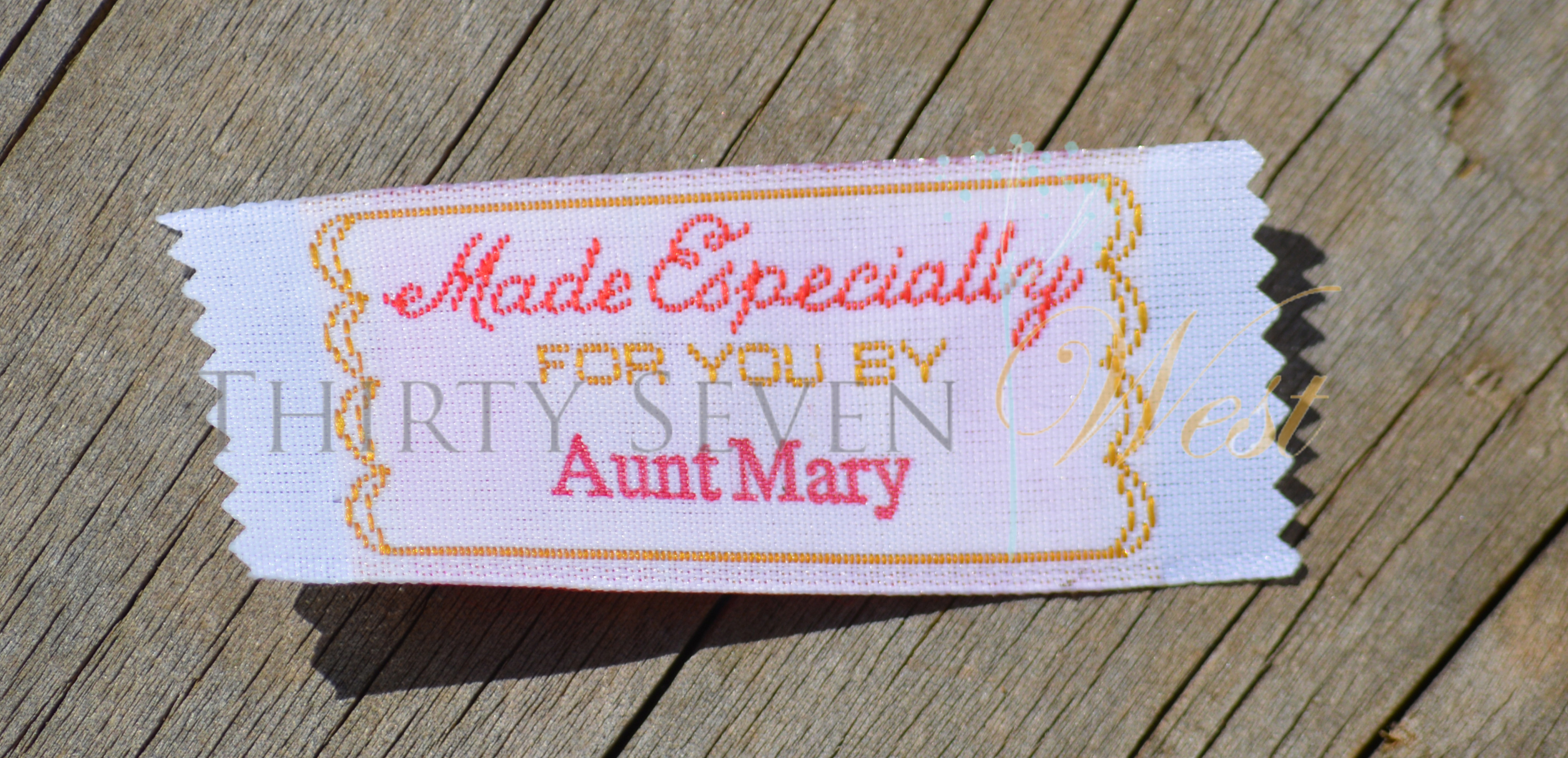 The   "Made Especially For You By"  labels are likely the most popular ones ever created for home sewing, crafting, quilting, knitting and crocheting.
Are you searching for that sewing label that you used to be able to get at the Mom and Pop shops, craft stores and fabric stores like JoAnne's and Hancock's and Michael's that you sew in your garments?
Or are you looking for custom woven labels, fabric labels, or woven tags for your creations?
Well, here they are !
The message Made Especially for You By is woven into the label and your name or your company name is stamped on to them.
Let us know if we can help you with this starting with smaller quantities and if you need labels for large quantities we can certainly assist you with quality custom woven labels with charm.
Here are some testimonies on our website for this particular label to help you gain confidence in our quality and our customer service.  Thank you for taking a moment with us.  Feel free to send an email or pick up the phone and call us!  Let us help you find the perfect label to brand your creation an heirloom if its for friends, family and loved ones.  And a soft sentimental look if its for commercial use.
Or in between for a prayer shawl ministry!
Have an awesome day!
Linda
Thank you!
Exactly what I was looking for!

Posted by Wendy on 17th Jun 2014

This particular style of label has been very difficult to track down in fabric/craft stores, so I found it online. The delivery was very quick, the labels are perfect, teh customer service was excellent and I will definitely shop here again!

---

Perfect Finishing Touch!

Posted by Unknown on 10th Jun 2014

These labels are so attractive, and professionally done, were delivered very promptly and helped to make this a very special Father's Day.

---

Unique labels!

Posted by Judy Kaplan on 8th Jun 2014

My daughter loved her personalized clothing labels that were tucked into her 'surprise package'!

---

Outstanding Service and Product

Posted by Betty on 29th May 2014

The labels we ordered were of high quality and the price was great. Thanks for your quick and courteous service and updates.

---

Look No Further!

Posted by Cheryl on 13th May 2014

I am very pleased with the labels. The customer service I received was excellent. From the verification of my order to the delivery. The labels look great! I am very pleased and I will order again and again.

---

Looks Great!

Posted by Connie on 9th May 2014

Prompt service and quality product.

---

Excellent Customer Service

Posted by Unknown on 18th Apr 2014

Our labels are just what we ordered. The company gave us a few options and the ones we chose came quickly and are perfect, I would definitely recommend their service.

---

Quality and Service as advertised

Posted by Harry Simmerman on 30th Dec 2013

I have no problem in stating that the labels received were of the quality that I was expecting. Every effort was made to get them to me before Christmas, even though I was ordering at the last moment. Should the occasion arise for me to use this company in the future…..I would have no hesitation in doing so….neither should you.

---

Homemade labels

Posted by Jo on 11th Dec 2013

My daughter and I are very pleased with the labels we ordered. We are using the labels for items we have hand made for Christmas gifts. The labels are attractive on the gifts and just what we needed. We needed a rush order and customer service came to our rescue! We will definitely use this company again.

---

Excellent Labels

Posted by Unknown on 5th Aug 2013

I was very pleased with the labels as well as the individual service received. I was refreshing to receive such personalized service. Everyone involved went above and beyond to ensure I was satisfied with the product. Awesome customer service.e and beyond to ensure I was satisfied with the product. Awesome customer service

---

Excellent labels

Posted by Mary on 4th Apr 2013

I was extremely pleased with the promptness of service on my labels. Since my name was a Cherokee name I appreciated the spelling being checked before the labels were made. Will definitely order again.
Please follow and like us: