Calling all fashion designers! Whether you make wedding gowns, bridesmaids dresses for weddings, high end couture, t-shirts, baby blankets, baby clothes, cloth diapers, quilts, hats, scarves, headbands, shirts, pants, dance clothes, costumes, boots, anything artsy fartsy, we will help you find the right label for you at a budget that's affordable and fabulous!
Are you looking for a fashion label for your latest creation?
Where do you start? How do you find someone you trust to do them right the first time? Do you already know exactly what you want? Or do you need a customer care specialist to help walk you through the process? With more than 12 years experience in the custom fashion label industry, Labels America, now Thirty Seven West, was one of the first companies on the internet to offer lower quantity custom woven labels starting at 250 labels.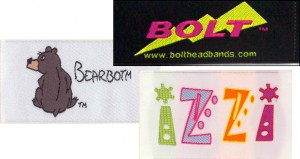 You have your logo or name you want woven into your labels. But which fabric do you choose? How do you make your name unforgettable? Depending on what your product is you may want/need a certain type of fabric for your labels.  Here is a breakdown of the types of fabric we offer for our labels.
Damask Labels– Soft enough for babies, yet most durable of all (e.g. more wash, wear, and weather resistant). Your logo details will be sharp and crisp.  These fashion labels are great for anything requiring high definition look, one thatPOPS!  Woven damask labels have a finer thread weight with twice the thread count benefiting much more detail and quality.  Damask labels are slightly more expensive than other fabric types, because of their higher quality.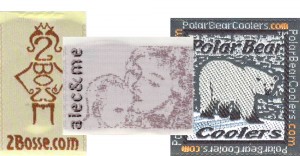 Taffeta Labels – Interesting for labels requiring an artsy look and feel. The lettering on taffeta labels is similar to the raised print on a business card. The definition of taffeta labels is not as high as Damask labels and they have visible tie downs (meaning tiny dots with be slightly visible).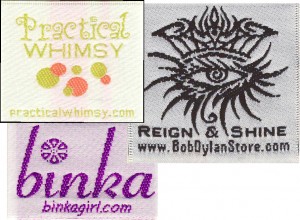 Satin Labels – Shiny and soft. Satin labels are great for lingerie, bridal wear and boutique clothing.  They are not quite as durable as Damask labels.  The graphics on woven satin labels have visible tie downs (tiny visible dots).
Cotton Labels– Durable, soft, minimalistic in style, and very affordable. Cotton labels are the perfect match for many labeling projects. They are a product of Old World, European Class, Style and utmost good Taste. Woven Cotton Labels are crafted on old world looms and imported directly from Europe.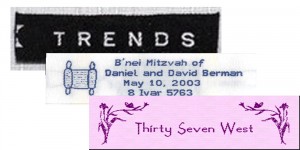 Please follow and like us: