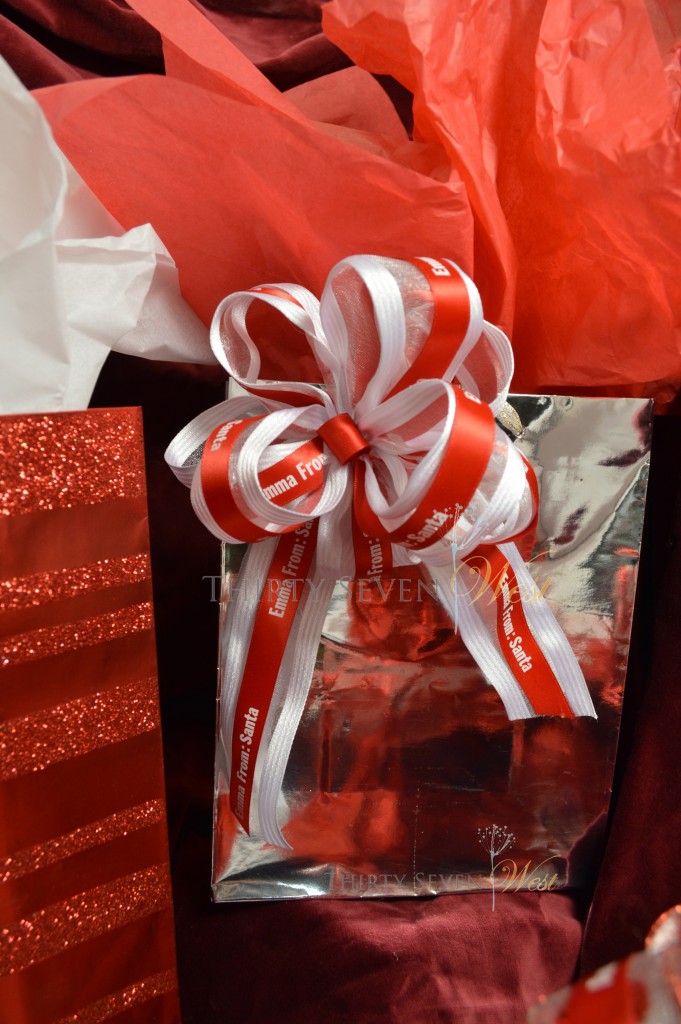 Deciding how much ribbon to order can be confusing at first, but taking a little time to think about the ways you may use the ribbon will help you get an idea of the amount that makes sense.  Taking this step now will save you from running out of ribbon long before you run out of gifts to wrap.
How will you use the custom ribbon?
We recommend that you first consider how you are going to use the custom logo ribbon. For example, if you are going to use it for gift giving, get a sample gift (including its box) and use a piece of string or another ribbon to wrap the package.
If you are going to add a bow, again, make a bow of the right size using a substitute string or ribbon. Then measure the length used for both the package and the bow.  Simply multiply that total by the number of gifts you expect to give. But be sure to add a little extra to the final total.  We'll bet that once you get started, you'll find a bunch of different ways to use the ribbon!  Deciding how much ribbon you need is not an exact science, and the last thing you want is to find yourself out of ribbon with a few gifts left to go.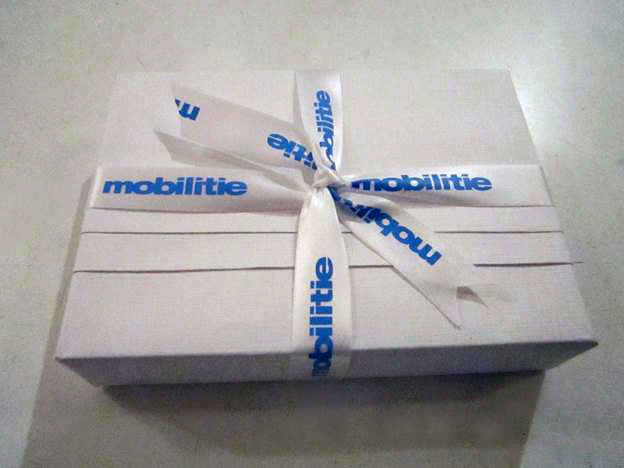 Taking this step to estimate the appropriate length will also help you visualize what the completed packages will look like and will help you decide if you need to order wider ribbon—before placing an order.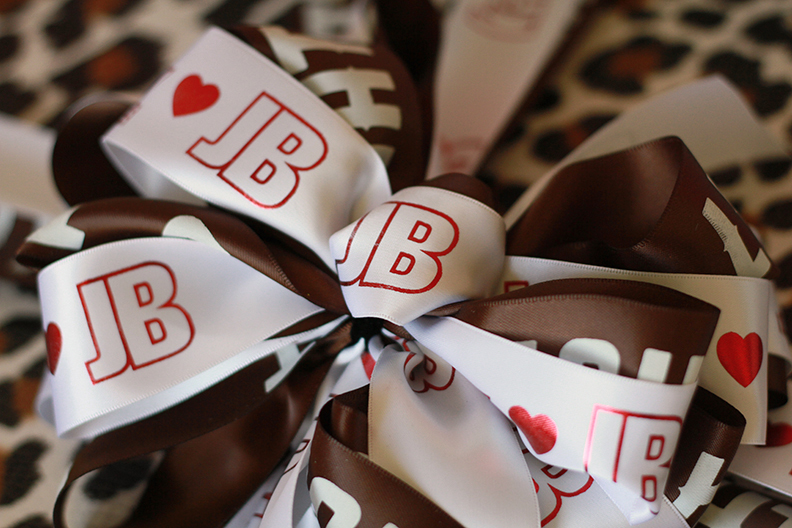 How will you embellish each package?
You will also want to decide what sort of bow you will be making on each package.  A simple loop bow, the kind you use to tie your shoes, is the easiest to tie. A simple presentation can be elegant as the custom printed ribbon speaks for itself. Fluffy bows, the kind with 5-7 loops use more ribbon and leave a bigger impression.
Whatever bow you choose, it is always a good idea to order a little extra ribbon for those last minute gifts that come up, you know, that person you always forget or that last minute gift exchange.
Other uses for logo ribbon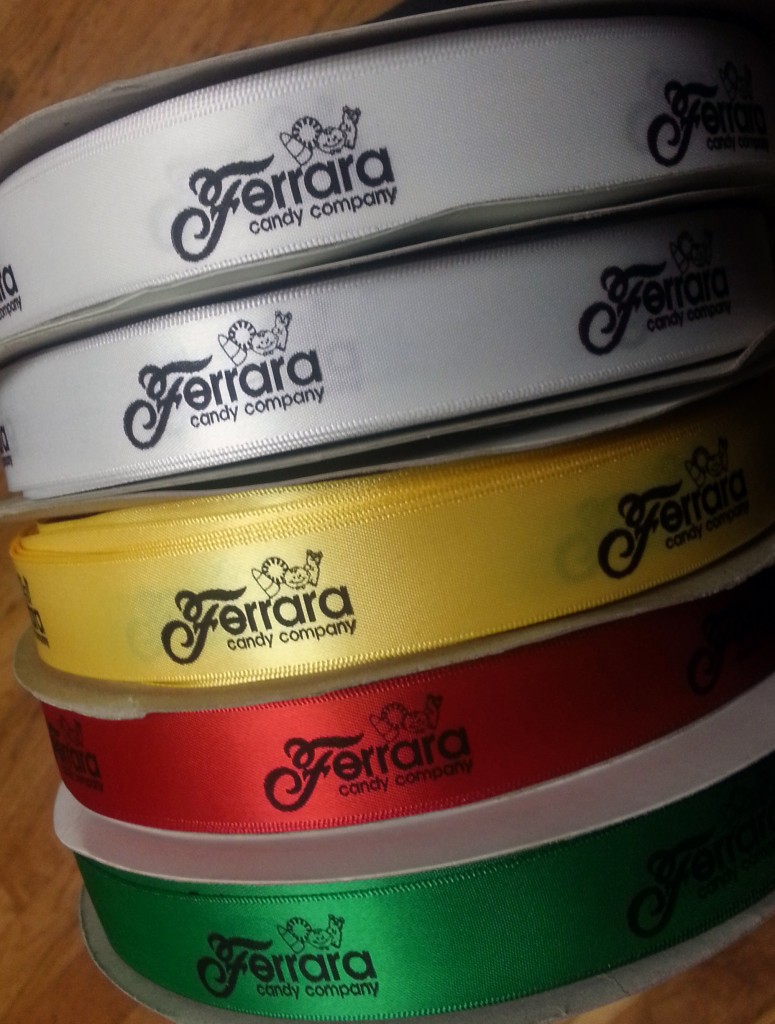 In fact, after receiving our custom logo ribbon, we bet you'll find yourself inventing new ways to use it, and will want to have some on hand at all times.
– Get a request for a charity raffle prize?  A simple ribbon can make it stand out.
– Need a thoughtful thank-you gift for a client or staff member?  Pick up something at the local supermarket but make it special with a custom-printed bow.
– Forgot to wear your holiday sweater?  Add a small bow made of custom ribbon to your lapel.
Custom ribbon makes an impression
It's amazing the lasting impression that custom ribbon provides.  Let your creative side go a little wild!  Just take some time to guesstimate the amount of ribbon you'll need and place your order.  Order as much as you like, whether you need only 20 yards…or 1000 yards…or more!
The sky really is the limit on the fun that you can have creating a unique look for your company.  Ready to get started?  Go here to get your ribbon order started: http://www.thirtysevenwest.com/personalized-ribbon/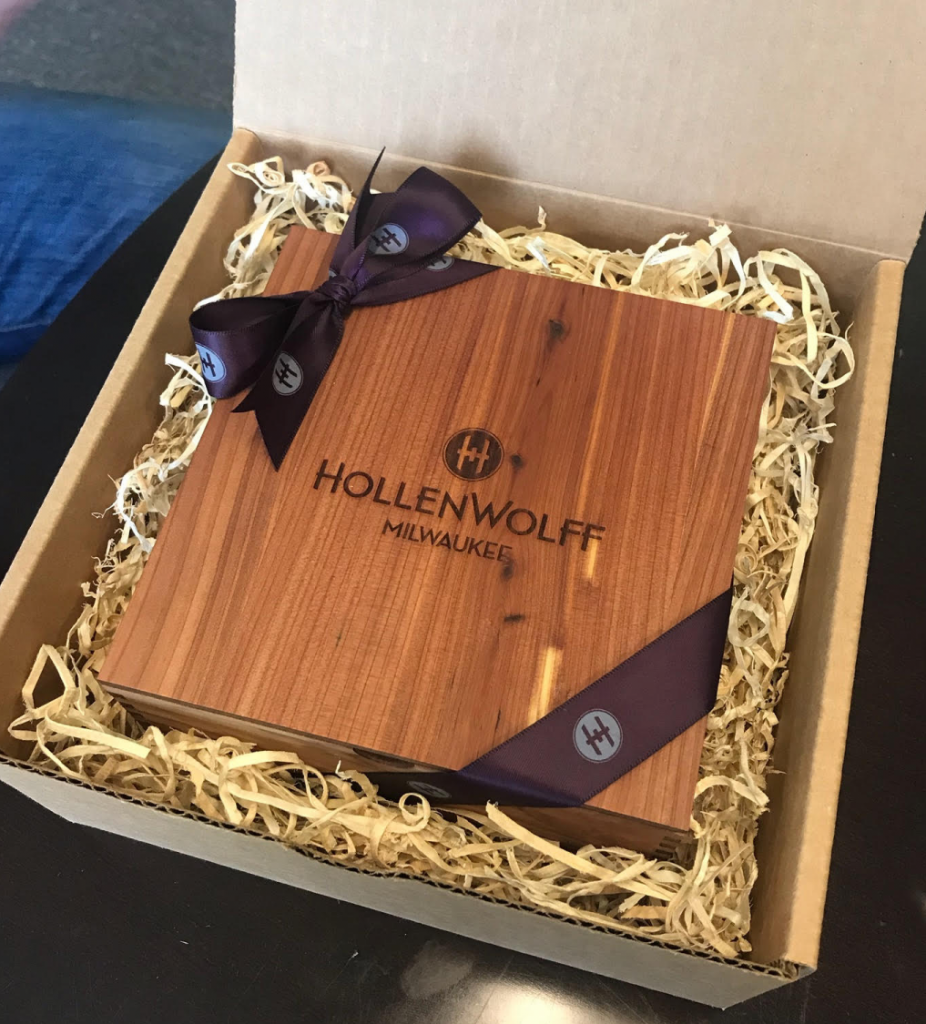 Please follow and like us: