In a world that offers us opportunities to find creative solutions to financial developments, we see a need for a very cost effective solution for fashion labels for branding, including both iron on and sew on labels. If you need clothing labels, name tapes, or name tags continue reading to learn more about our high quality, affordable cotton labels!
Our Cotton Woven Clo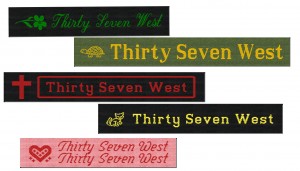 thing Labels are a product of Old World, European Class, Style and utmost good Taste.  They take us back to the days of a more simplistic life and bring it forward to "now".  There is nothing ordinary about the elegance of simplicity.  Minimalistic in style, and very affordable, they are the perfect match for many labeling projects.
If you are just starting out in business and are budgeting your money carefully and looking for labels that will outlast your creations, these cotton labels are the perfect solution.  Durable, soft, and simple to order, it is a quick easy process to look over your options and select one.  Done! Check this off your To Do List!
The labels are crafted on old world looms and imported directly from Europe. Once you have placed your order, you will have them in 4-6 weeks + shipping time.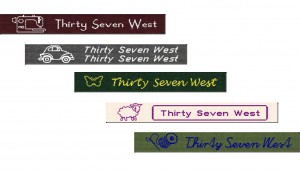 For an extra bit of creativity, you may select one of the motifs to go on either the left or the right of your text on your labels.  However, if you select a motif on a border label, the motif will go outside the border on your label.
You can select iron on or sew on.  Our adhesives are the best in the industry and will stand the test of time and washing under normal circumstances.  It is always best to test the heat and pressure on your fabrics if you decide to go with the iron-on lables.
Please note:  We are not and cannot be responsible for your testing the melt temperature of your materials. If you would like some samples to experiment with, just let us know!
Name tapes – Se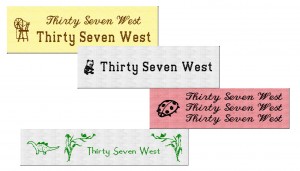 w in name tapes and iron on name tags. A great step up from cheaper printed name tape for camp, printed name tags for school, and labels for nursing homes, these soft Egyptian cotton woven labels are a nice touch for identity labeling purposes.  Choose either a sew in name tape or an iron on name tag.
If you are looking for Custom Design Cotton Labels simply Submit your artwork, or even photograph, to us and we will get you a quote. We also offer smaller quantity, affordable alternatives to cotton. Visit our Semi custom labels and our unique Boutique labels to see what we have to offer. Feel free to contact us so we can help you arrive at the best possible solution for the look you want to fit your budget and your branding needs.  First class customer care is our primary goal. We strive to process your order as quickly and efficiently as possible so you will want to tell everyone you know about us!
Please follow and like us: