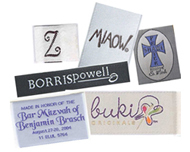 Your unique clothing label is a reflection of your business and your artistic identity, and the quality of your fabric label will make a lasting impression on anyone who sees your garments. A garment tag possesses the singular ability to proclaim your product quality standards and solidify your company's reputation for durable and distinctive clothing.
Developing the perfect customized label for your signature fashion creations can be an intimidating process, but clothing entrepreneurs understand the important significance and permanence created by a garment label. It becomes your identifying namemaker, it announces authorship, and its quality marks your appreciation for everything that is done well.
However, most emerging designers are unaware of fabric label specifics and uses. That is why an experienced label manufacturer can provide the knowledge and assistance needed to help you create your name brand.
Garment labels are made from many different materials; Cotton, Damask, Taffeta, and Satin are all popular label fabrics. Each one has its own quality appearance and price, therefore finding the right one for your clothing business requires specific knowledge about their individual advantages and disadvantages.
Damask combines superior softness with extreme durability. Soft enough for infant clothing and can withstand heavy use and washes. High tread count density and finer thread weight allows this fabric label to present logo details and images sharply and crisply. Fine details and high definition make this material slightly more expensive than others, but well worth the money.
Taffeta produces an artistic look with raised lettering and tiny visible dot called tie downs. This supple fabric gives less definition but is very lovely and a less expensive option.
Satin has a smooth feel and is shiny. Great for intimate apparel, but not as durable as damask.
Cotton is a great option if looking for something natural and eco friendly. Available in printed or woven.
When ordering custom woven labels, the fabrication details are as important as the material. This finishing touch says a lot about who you are and your quality standards. End folds, flat fuse cuts, and center fold labels each present a certain appearance depending upon the fabric label use and sewing allowances.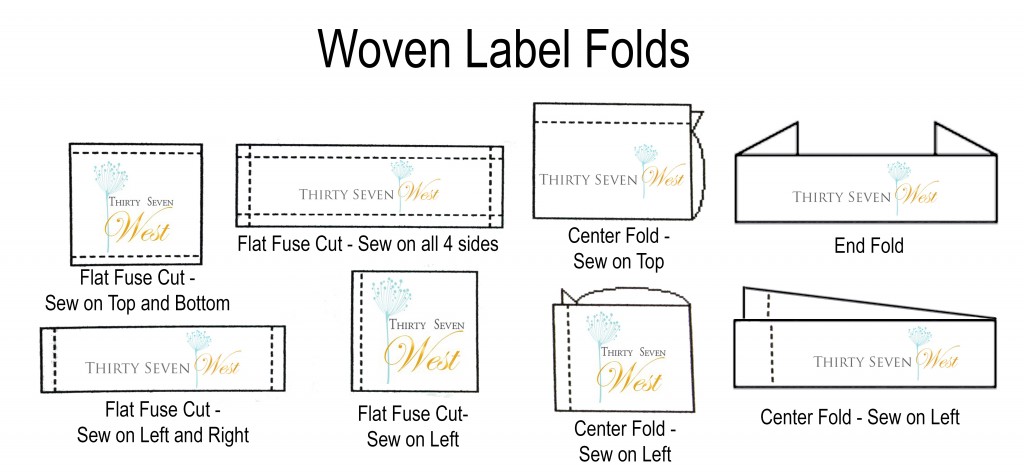 An end folded label essentially produces a more finished appearance and is generally used on high-end garments.
A flat fuse cut label has no fold and the edges are heat sealed to prevent fraying. They can be attached by sewing any or all of the edges to the garment. This style works well for brand marking on the outside of the garment or for baby clothes. (All sides of the label must be attached to the garment for infant clothing.)
Center fold fabric labels provide a finished look when attached to a seam by effectively covering the threads on the back of the label. This type of garment label can also detail the care instructions on the back.
With so many selection options that denote the quality of your clothing label, it's imperative to seek the guidance of an experienced label manufacturer. He or she can successfully guide you through the maze of graphic options, material choices, and appearance decisions and help you develop your signature brand label.
Please follow and like us: