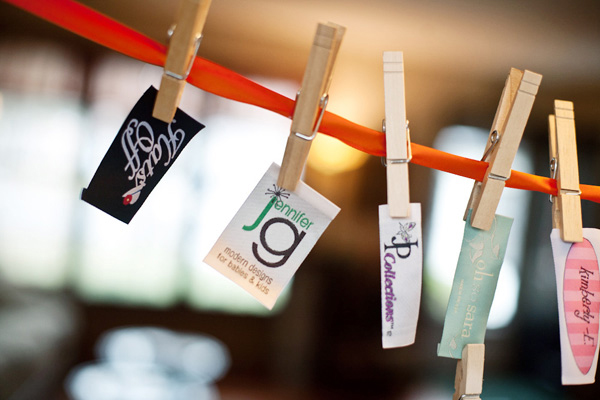 You've worked, and thought, and asked for advice, you've re-drawn, re-worked, and gotten more advice, and finally, after a lot of trial and error, you've settled on a design for the face of your custom fabric label. But now that you've completed that monumental task, you'll need to choose a fold that will work best with your products and your label design.
Yet, determining the right custom label fold is a little more complicated than just blindly settling on the first choice. There are many label folds to consider, and understanding the options available for you can go a long way toward making sure your finished fabric label not only looks great, but also functions well with your specific products.
Our companion video, "How to Choose Label Folds" showcases some label fold examples so that you can have a better idea of the different label folds offered.
Die Cut End. The "10 Cane Rum" promotional label was created for Louis Vuitton, and with all die cut labels, features a backing material.
End Folds. A basic fold, end folds allow you to sew your fabric label to your product along the right and left side for a flat attachment.  We've shown 4 styles of end fold labels to allow you to see the applications for this fold. The first label is a basic semi-custom, or personalized woven fabric label created specifically for groomsmen's gifts for a wedding. The second label actually had customization performed to create a distinct look. The "pair" label is an example of adding a coordinating tab to your semi-custom label for additional placement on the garment. And finally, the exclusive label created for Julio Iglesias is a custom design that features his signature.
Center Fold, Top Sewn. This fold allows you to attach your label along the top edge. This type of custom woven label can feature contact information or care instructions right on the back, and minimum orders start at 250 labels. The classically elegant Oksana Davidyuk label also features this fold that allows you to sew-in your label on only one edge.
Center Fold, Side Sewn. The Cooler's custom woven label displays a center fold, side sewn design with graphics and wrap around text for an interesting, yet intricate custom label that can also be attached on one side.
 Even if you haven't actually decided on a label design, this video can give you some great ideas and options for creating your personalized fabric or custom woven label. Choosing the right fold for your label is an important step in its creation, discover your options, and call us to start the process today.
Please follow and like us: