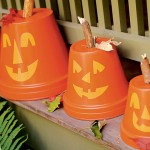 Halloween is becoming more popular every year. Not just for kids to go trick-or-treating, but for people of all ages who want to have fun. American's spend an average of $6.9 billion on Halloween every year. That includes costumes, candy, decorations, etc. Having a party can really add up. So if you plan on having a Halloween party this year here are some ways to decorate that can save you some money.
These Halloween crafts are a great way to help you cut costs when decorating for a party. They are also great for children to do whether it's to help decorate or just fun crafts to keep them entertained.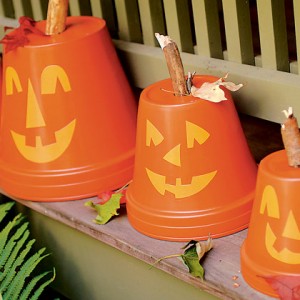 These flowerpot pumpkins are a great way to decorate your home for Halloween without having to go through the hassle of hollowing out and carving pumpkins. And after Halloween is over you're not throwing your money away with a rotting pumpkin, you can keep these pumpkins for years to come and always be ready to decorate.
All you need are a couple flower pots – which many of us have laying around at home – some yellow craft paper, mod podge craft glue, and a couple sticks. Click here for step-by-step instructions on how to make these flowerpot pumpkins.
These flowerpot pumpkins will also make a great gift if you are going to a Halloween party. Make this gift even more unique with some Happy Halloween ribbon that you can make from any of our personalized ribbon. Tie around the base of the pumpkin or even around the stem for an adorable flowerpot pumpkin!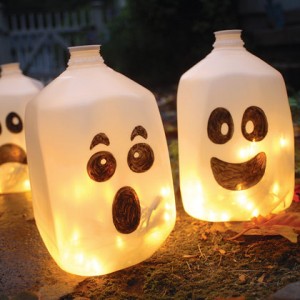 Another great alternative to real pumpkins are these Spirit Pumpkins. These pumpkins are so simple and Spooktackular and take almost no work at all.
Most people already have all the materials at home. All you need are a couple empty milk, juice, or tea jugs, a permanent marker, a knife, and a string of holiday lights. Click here for step-by-step instructions on how to make these spirit pumpkins.
These pumpkins are great for kids of any age to make. With almost no help needed from an adult, the kids can have a sense of accomplishment that they did it all on their own.
Be creative and try out different color lights, different color permanent markers, and different kinds of containers!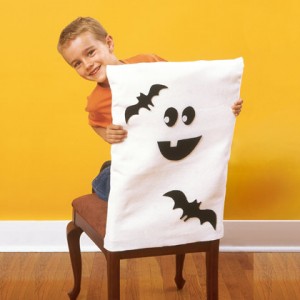 Another great Halloween decoration are these Ghost Chair Covers. These covers take a little more time and effort but are worth it because they can be used for any party because the decorations are detachable!
You just make the cover out of felt and cut the decorations out of different colors of felt and attach them with re-positionable glue. Click here for step-by-step instructions and a video on how to make these chair covers.
These covers are great for kids because once you have helped them cut out their decorations they can have fun positioning them wherever they please.
Awesome idea for gifts too! You can create the backdrop and cut out some decorations to get them started, then show them how to make more for other occasions. Create your own label to put on each cover so everyone will know you made these awesome chair covers!
Please follow and like us: