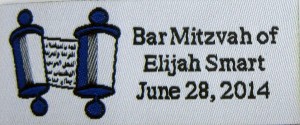 Mazel Tov!  A lifetime, it seems, of preparation for the torah portion. For the training of the Bar Mitzvah or Bat Mitzvah to assimilate their heritage, the Hebrew language as well as the portion of torah for them to learn.  A lifetime to come of Judaism being set in their heart to have a love for their heritage and rituals and flavor of the Jewish way of life.  Family, traditions, the love, the bond, the friends from near and far all come together on that day of ultimate celebration.
For generations your family has celebrated the coming of age.  What an honor it is to be a part of the mentoring of a promising young person.  The grandma or another close relative often wants to create her part by contributing Yarmulkes or kippot with a custom woven label in each to commemorate her part in the celebration.  You might put labels on talit as well. Or pajamas for a pajama party for the Bat Mitzvah.  Or sports fanatics might want to get sports memorabilia and put labels in that to have guests and family have a momento to cherish for that day. Each theme brings to the table all kinds of opportunities for unique design.  Classics are always wonderful.  Tradition. Tradition.  Tradition blended with contemporary.  Anything goes – it is your big day!

A custom made woven label with your Bar or Bat Mitzvah's name and date are traditional style in the blue and white colors of Israel.  Check out the more earthy colors of a torah portion opened with name and date on it.  And the fun and whimsical of hearts and the Star of David and a Chai. There are many options including a totally custom made label with your own design and theme.
Please follow and like us: