"Since 1947 we have served the sewing industries with the same commitment and quality of service that has made us a leader in the industry.
We have compiled a list of the thousands of items that are stocked for immediate delivery."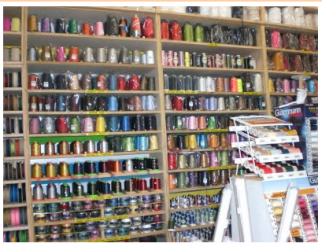 Do you love sewing? Then be sure to check out Steinlauf and Stoller for all of your sewing supplies! They have everything from pins and needles, to thread and cording, to clips, snaps, buttons and zippers! Dritz is one of the biggest brands of notions they carry.
Steinlauf and Stoller is located in New York City so if you are in the area and need sewing supplies be sure to stop in! Don't live in New York? Not a problem. Simply call and place your order over the phone.
Now that you have all of your sewing supplies, all you need are some labels to brand your creations with so everyone knows who made them!  Labels are an exceptionally powerful piece of  your branding.  Essentially they are your Fabric Business Card every where your product goes!
What better marketing than to have your identity on your product so someone admiring it can contact you!  You get one chance at a first impression!  Your labels should reflect your quality and style and creativity… We have labels for any budget, too!
Only sew as a hobby? Then you may not need very many labels. We can still help! We carry an adorable line of labels that Name Maker built its business on that are pre-designed woven fabric clothing labels that we print your name on starting at only $16 for 20 labels!  Very popular choice!
Do you like natural fibers?  Are you looking for a great way to get started or a lower quantity for a wedding, birthday party, pet clothes, identification for your children's clothes for school or camp?  Cotton woven labels are charming with a old world elegant European flair. An awesome value with a great choice of colors and fonts and layouts.  Starting at 50 labels for $28, they are also quite popular as they are a great value when you prefer your name be woven in and you are on a budget until your business gains momentum.
Our Personalized Fabric Clothing Labels and our very own Label Boutique are also great choices if you are looking for a label that will outlast the product you put it on. Both starting at only $75 for 50 labels. These are also completely woven with a great selection of fonts, colors and sizes.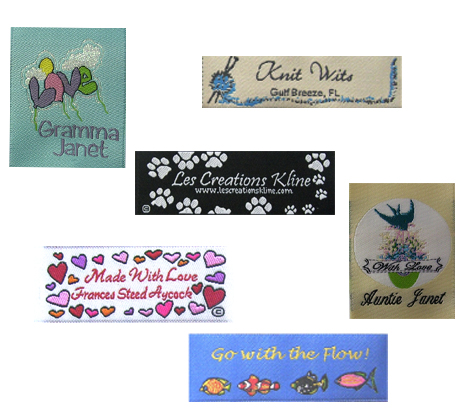 Is sewing your career? Then be sure to check out our Custom Woven Logo Labels. The minimum order starting at 250 labels. Need more? Even better! Simply fill out our quotation request formand we will get you a quote.  These are completely woven cloth labels.  Perfect for your logo or even your signature!  Imagine getting your signature woven into your labels or even your picture!
Why did I decide to feature Steinlauf and Stoller?  Well, it's a service and a source that our labels customers can use if they need a new one.  And as you can see why, I absolutely loved their pictures!  They remind me of my childhood days.  You know how most kids love candy stores?  Well, I loved notions, threads, fabrics…such color and variety and so many things you can dream up to do with them!  I'm gonna guess that all you crafters and sewers and knitters and crocheters and designers and creators and entrepreneurs understand completely :-0  Am I right?
Please follow and like us: