WHAT'S SO IMPORTANT ABOUT A CHEMO HAT?
By Sue Preslar
Prayer Shawl Ministry of First Presbyterian Church, Monroe, NC
The chemo hat is a necessity for many people who are undergoing chemotherapy and lose their hair. Women are particularly affected since our hair is one of our major features of how society looks at beauty. Can you imagine what it must feel like to get up for work every morning to get dressed and have no hair? How about dropping your kids off at school and going to the grocery store to shop? Without hair, you often feel uncomfortable in public as well as an object of pity. Add the fact that chemotherapy makes you feel sick and energy-challenged and you can see how much significance is given to the look and feel of a chemo hat.

So, why can't we just go to the department store and pick up any hat that suits us and slide it on? For one thing, regular hats often hurt a sensitive bald head. The headbands inside are often scratchy; certain materials irritate sensitive skin; not all hats cover the whole head, etc. Even wigs are frequently uncomfortable. Though many of them are beautiful and very natural looking, friends of mine who have gone through chemo have told me that the wigs hurt. That hurts me to think about it, and I knew I could help.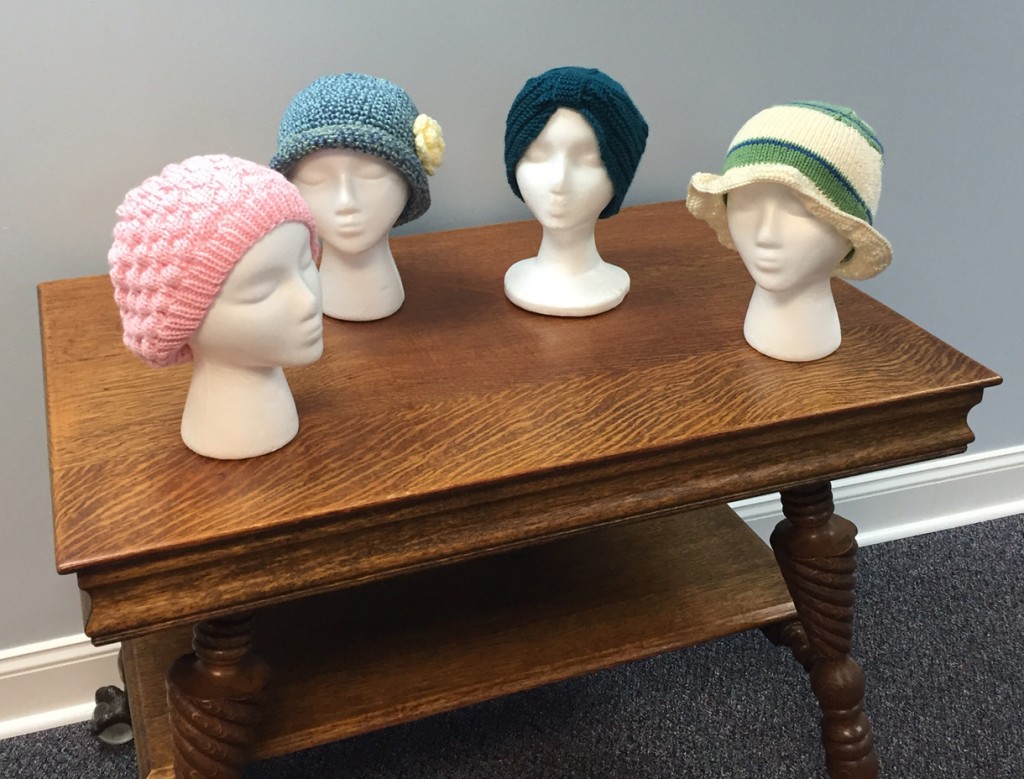 Our knitting group set out to help at our local hospital. If your knitting group is contemplating making chemo hats for someone or some group, do a little research first. I learned that not all handmade hats are created equal for chemotherapy patients. I found out that you MUST use soft yarn—like baby yarn or soft-to-the-touch yarns. Also, you must consider size since our heads are much smaller without hair. So, make your hats a little smaller by going down a needle or hook size. Measure the head if possible to make sure the hat isn't too small or too large. Be sure to make hats that do not have holes in the patterns that reveal the bare scalp. Consider styles that cover the whole head. What styles might look in fashion for someone who goes to work each day?
A couple of years ago, I found a fantastic website that provides you with all the information AND patterns you can begin with to knit or crochet. The website is: www.knotsoflove.com. They list yarn brands that are acceptable— which is a big help. Their patterns are marvelous. There are other sources as well, especially, www.ravelry.com. When you educate yourself, you will provide someone undergoing chemotherapy with a wonderful gift. If you can knit or crochet and you just want to make one hat for a good friend, it is a true gift of love.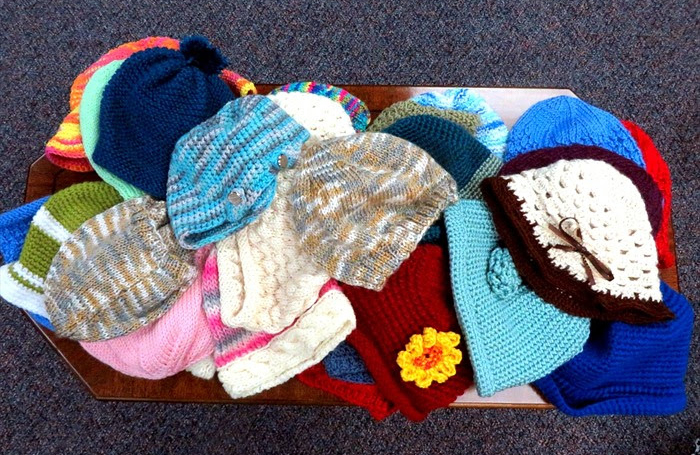 Remember that men and children also undergo chemotherapy and need hats too. Men can get away with no hair easier than women, but that doesn't mean their heads don't get cold. They need comfortable warm hats as well. A friend of mine had a granddaughter undergoing chemotherapy for non-Hodgkin's lymphoma and she lost her hair at 12. Her mother bought her hats of all descriptions, but the girl loved the ones I made for her most of all because I used happy bright colors and they were comfortable. Consider how cold a bald head gets at night when it's cold. A friend of mine told me that her head got the coldest at night, so I made her soft sleep hats just for that purpose and she loved them.
When we asked the director of volunteer services at our local hospital how we could help them, we were mainly thinking of tiny hats for babies. She told us they were always in dire need for pretty, comfortable chemo hats. Just think about how you would feel if you were the patient. Making chemo hats is now a dedicated part of our prayer shawl ministry. We knit love and prayers into each one.
If you would like to contact Sue's Prayer Shawl Ministry, or send donations,  their address is:
First Presbyterian Church
Attn: Prayer Shawl Ministry
302 E. Windsor St.
Monroe, NC 28112
Please follow and like us: