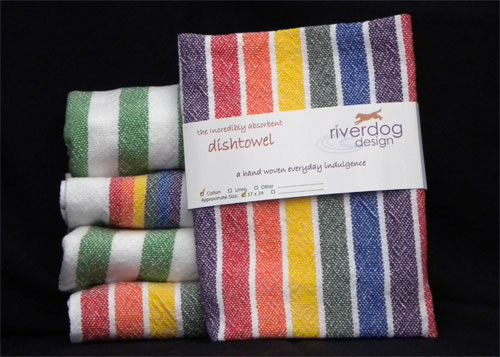 In this next installment that showcases our talented clientele, I had a chance to interview Lynn Walkiewicz, owner and creator of riverdog design. Her incredible Maine based business features 'everyday indulgences' for modern consumers, inspired by nature's gorgeous color displays and timelessly classic woven designs.
Q: What got you started weaving?
Lynn: I love fiber. I've been working with fiber for almost 20 years now.  Weaving was another interesting way to use yarn for creating neat stuff.
I asked if she actually makes each product by hand, her response: "I do, by hand.  That goes from counting the warp threads and warping the loom, to actually weaving the fabric and doing the finishing."
I also inquired about the materials she uses in her "oh-so-touchable" products, and she explained that cotton was the primary material used in her dishtowels, napkin sets, and table runners, but she has also designed and made jackets from linen and cotton and is working on getting them ready for sale.
Q: What inspired you to start riverdog design?
Lynn: I was at a point in my life where another career change was necessitated.  I decided I wanted to start my own business doing something I loved, and I totally enjoy weaving.  I'm proud of the product I'm able to produce.  I call them 'hand woven everyday indulgences' and I think that's what they are.
Lynn went on to explain that she feels that anything that can adorn a tedious, boring, everyday task with loveliness, makes the job more acceptable. Her practical dishcloths please the eye with their delicate beauty, as well as the touch with their supple feel. "I hate doing dishes and cleaning the kitchen, so ANYTHING that can make it better is okay by me!"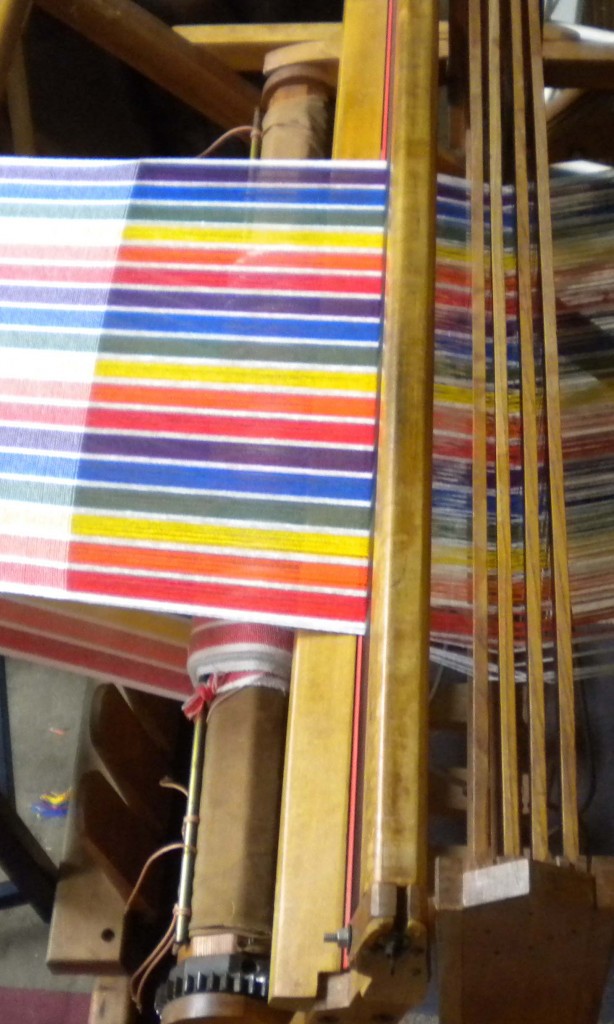 Q: Do you make your own wool/yarn?
Lynn: I do spin, but it's only for my personal use.  I have my work stash and my personal stash at home, so as you can imagine there's quite a bit of yarn around the house!
Q: Are the designs your own, or inspired by example?
Lynn: Both.  I have been inspired by traditional woven patterns, but I use those as a starting point to create my own designs.
In addition, this talented lady designed her own logo and packaging, beautifully complementing her original, hand woven products.
When I asked about the time each project could take, Lynn explained, "I warp 14 yards on the loom at a time and weave yardage.  When I take it off the loom, I cut it to the appropriate size, hem, and wash/dry it.  I have about 15% shrinkage in my fabric, so I want my clients to purchase what they'll have at home.  If all goes well, it takes 2-3 days to go from empty loom to finished product."
Lynn added that she had been in business for three years, and that during that time her products have been steadily developing and growing. "Adding labels to my product this year has been the most recent step.  I am thrilled with the way the labels look on my product, and the quality of the label itself."
Q: What are your absolute favorites?
Lynn: My favorites are the brightly colored towels – and the ones I'm still designing!  I think of patterns and set yarn in the right order on the shelf, and consider it as I weave.  I rearrange it, try other colors, and decide what I want to weave next.  It's a wonderful process.
Her Summer Brights color has been her best seller this year. Lynn told me, "It was so grey and depressing in March, so I took all the brightest colors off the shelf and put them together in one cloth that was inspired by traditional Mexican weaving patterns.  People have really responded to the brightness of the colors and the color pattern as it changes across the cloth."
Lynn plans to expand her sales by displaying her products in different shows across the country. Her products have to be felt to truly be appreciated, and by presenting them in person, hopes to share her creations with a broader audience.
She is always growing and increasing her product line, so look for more jackets, vests, and custom designed fabrics in the future. Her hand woven treasures are unique and affordable. You can find out more about Lynn, and riverdog design on her website.

You can contact Lynn and riverdog design the following ways: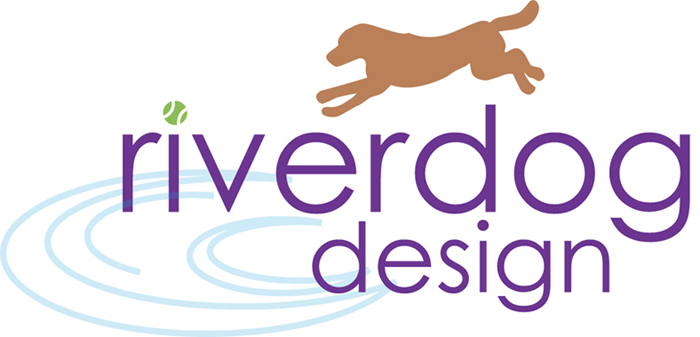 Website: www.riverdogdesign.com
Facebook: Facebook.com/riverdogdesign
Email: lynn@riverdogdesign.com
Phone: (207) 724-2269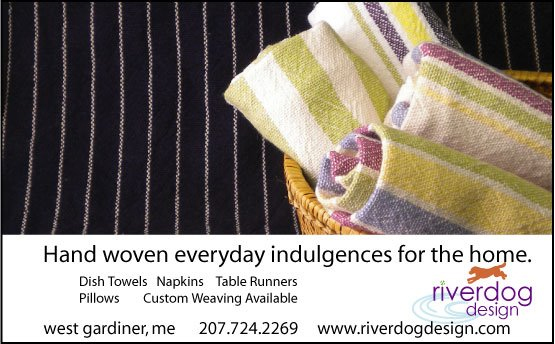 Please follow and like us: