​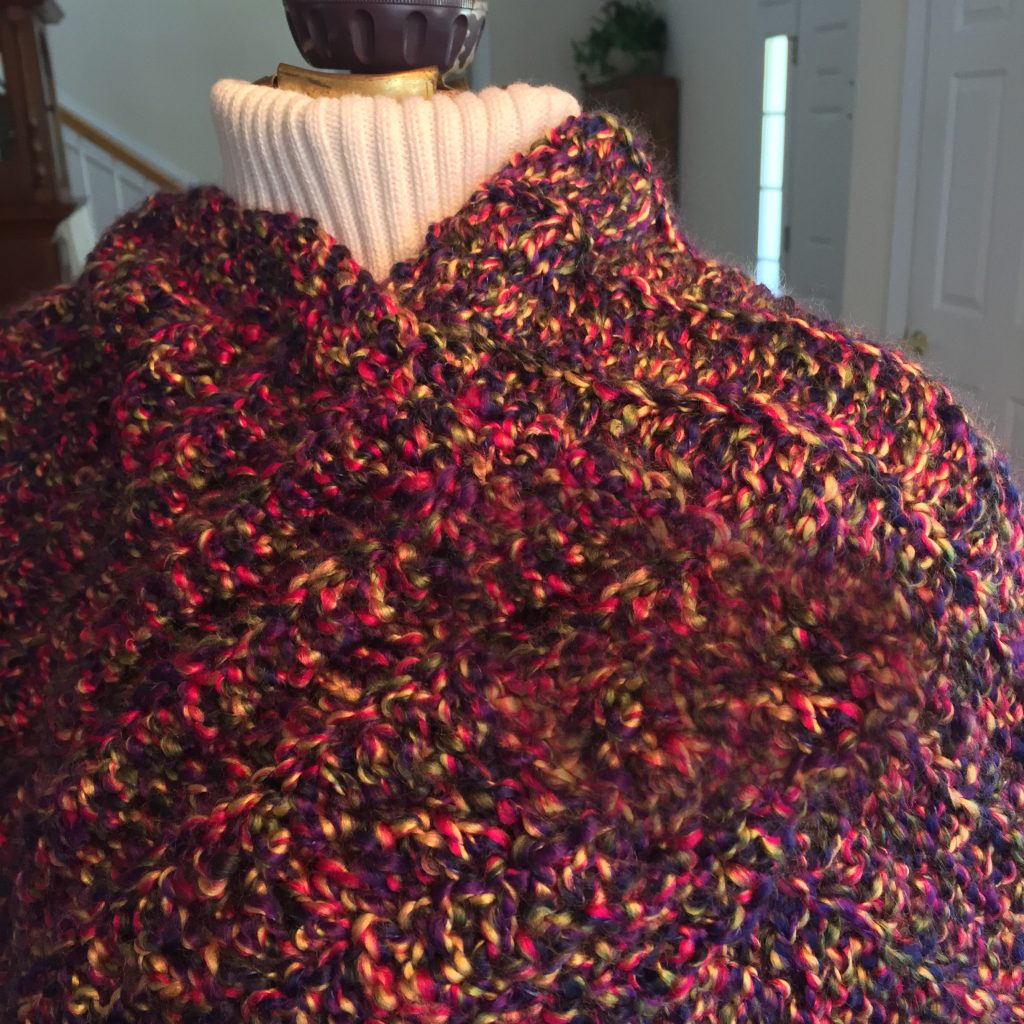 You know, I've had this on my heart a long time. Anything that reaches out and touches someone in and with love is my real heartbeat. I hope you don't mind.   I'm going to just jump in and share this wonderful way of touching hearts and stirring up love.  I am writing this as a result of a wonderful phone call today with Sue Preslar.
A thought dropped into Sue's heart in 2002 to start making prayer shawls to give to hurting people after reading a story about someone who received a prayer shawl. Sue found the idea online at the Prayer Shawl ministry's website.  She thought, "Oh, these patterns are so simple, I could teach others to make these."  Sue thought it was a cool idea to give love in such a tangible way to someone who is hurting, or alone and in pain.
She invited a friend in church who had the ability to knit and crochet prolifically to help her with this new project.  They made prayer shawls and baby blankets for people in her church and surrounding area for around two years. Because of their skill level as expert knitters and crocheters, they were able to keep up with the requests since the ministry was in its infancy. Word had not gotten around – yet 🙂 One day Sue's friend went on a vacation and never came home, passing away in her sleep.  Sue almost panicked and "I turned it over to the Lord."  He sent a new lady into the church to help, and then another one, then another one, then another one.
This ministry is all about mission outreach. To this day she remains totally open to whatever needs are requested. Only one caveat remains consistent, Sue sells nothing thru the ministry…only donations to others. They do take donations for supplies, and the supply always somehow seems to meet the need. "It's amazing how God always leads us to new ideas and then provides the means," Sue said.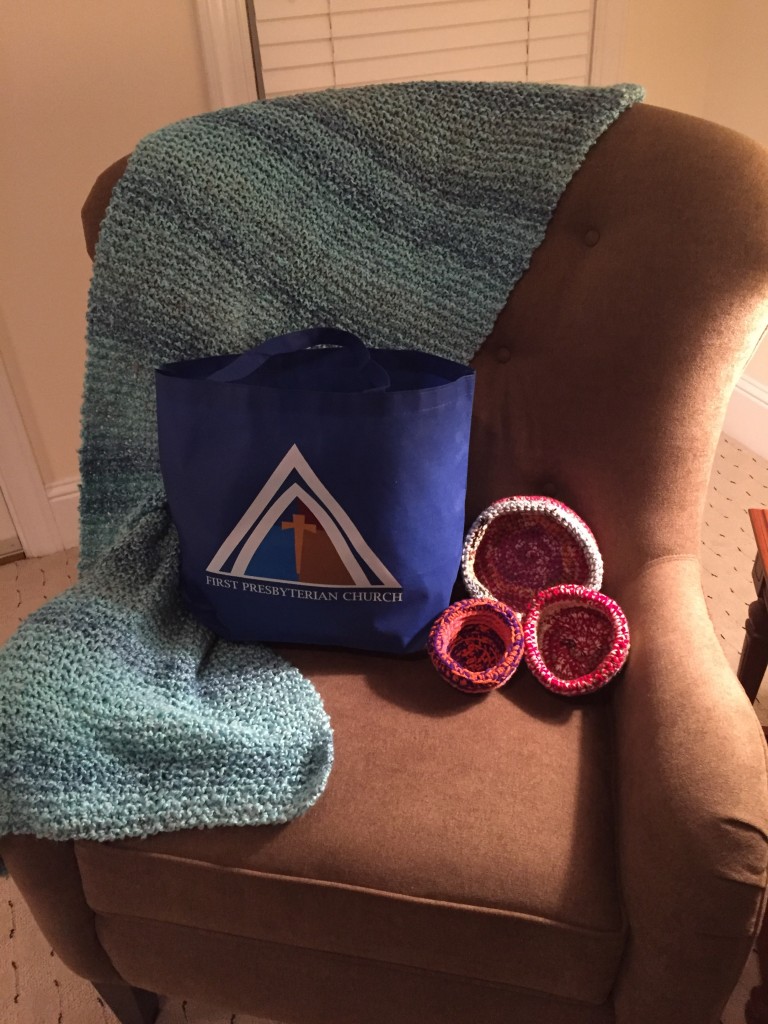 The group has branched out in all these years to include all sorts of projects. Some of the requests that Sue has said "yes" to are at least four styles of chemo caps and hats for patients battling cancer, both young and old in bright cheerful colors!   There are lap blankets for men, too!  Often she asks men to deliver them to men since men are often uncomfortable when women see them in a frail state.  "The men who deliver them love the experience! The ministry works both ways in its grace to the receiver as well as the giver."  Sue's husband is one of the men who delver them. The men who receive them are often overwhelmed and touched by the generosity and love…remember, those blankets were prayed over while a loving, caring, generous person was making them.
Sue's group also makes baby hats and preemie blankets for the local hospital. Like many other groups in the area, Sue's group provides hats for the Room at the Inn project for homeless men. The men are invited to choose a new hat when they leave in the morning donated by these groups. Since Sue's church has "the best preschool in the area," their pastor asked them to make a meal and a baby blanket for new mommies of preschool children, many of whom do not attend their church or sometimes any church. It has been overwhelmingly received. Just recently, the group began providing their local Carolina Waterfowl Rescue Center with crocheted nests for baby birds and animals. "All God's creatures need help once in awhile," Sue said.
There is "so much need for handmade items" says Sue. New ideas she is considering now are knitted breast forms for women having mastectomies. Also another new idea is to provide firefighters and police officers and rescue workers with palm-sized comfort bears for children in the middle of chaos. Sue said. "Knowing that someone made something by hand just for you and prayed for you when they did it. Well, it's incomparable." Ever since I found out about prayer shawl ministries I've had the same feeling.  I have several customers who order prayer shawl labels and there's just something about it that touches my heart.  In speaking with Sue today I can see why.
The group has evolved into a more organized effort and news of their work has spread.  "Much of it is due to our personalized woven fabric label that gives it an heirloom feel that we had made (by Thirty Seven West) and imprinted totes as well as card enclosures with a Bible verse," said Sue.
Sue remains open to whatever requests come her way with a "can do attitude" that is inspiring and helps her even bring light into her world in the midst of "life happening".   Sue is thankful for all requests because she knows she has a chance to change lives by bringing peace and love, even if only briefly.  Its a way to be productive and in charge of making a loving difference in lives…in charge of bringing joy, love, relief, comfort and peace when even her own world was absolutely beyond imagination challenging.  Giving love to hurting people brought peace and love to Sue's heart and still helps keep lingering pain from loss away.  Filling that void with love and a giving heart are Sue's healing balm.  Praying over her creations helped bring peace to her own life.
If you would like to contact Sue's Prayer Shawl Ministry, or send donations,  their address is:
First Presbyterian Church
Attn: Prayer Shawl Ministry
302 E. Windsor St.
Monroe, NC 28112​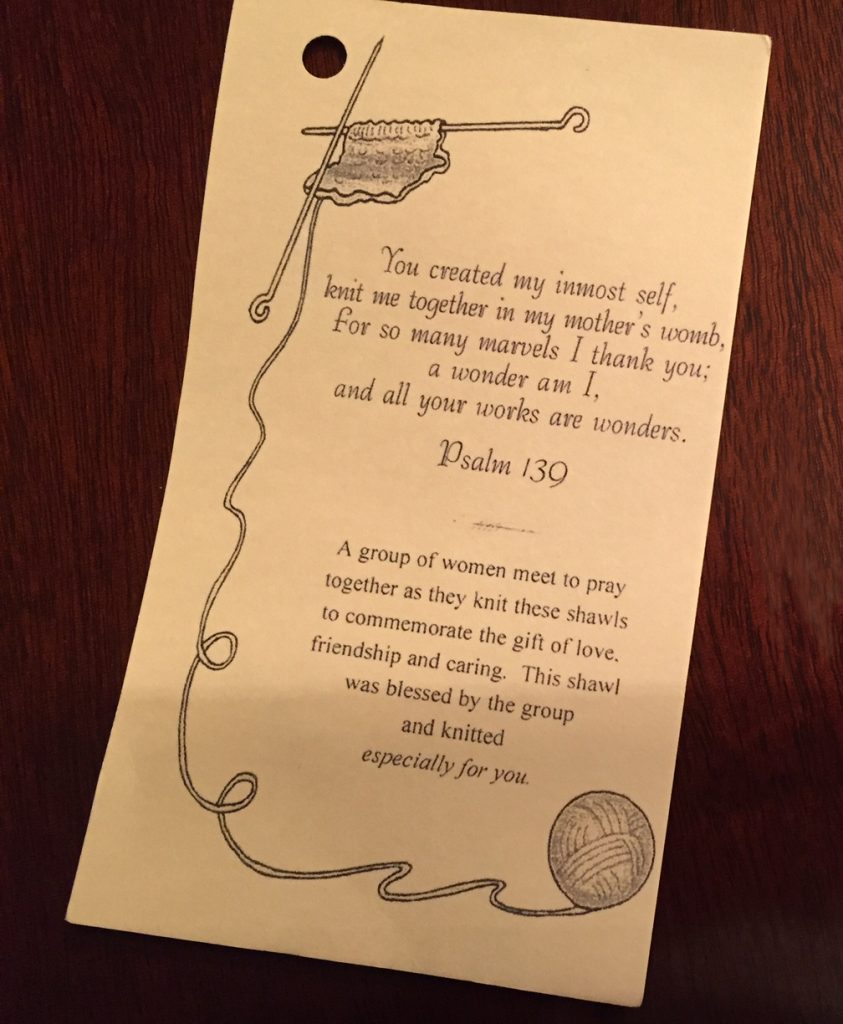 Please follow and like us: