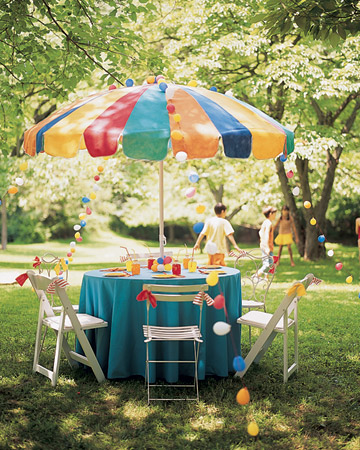 Well it's no surprise that the weather has warmed up quite a bit.  It's been luring people out to parks and club houses and porches.  Parties that were once held indoors are now held by swimming pools and sandy beaches and in backyards under thrown frisbees.
A lot of invites for these occasions go something like this: "Yay!  We're having a party.  We can't wait for you to show up.  By the way, bring your own covered dish/ entree/ snack/ side dish/ dessert/ drink, etc."  In most instances, it's perfectly all right (and even fun) to bring something to a party.  It helps foster a sharing attitude, and also relieves some of the pressure from the event organizer or host.
But, what do you bring?  Not everyone has a famous bacon and cheese dip recipe that they got from their Aunt Debbie.  Not everyone can make the melt-away bars of the century late on a Friday night for a Saturday get together.
Fear not!  Consider us the party brigade, and we've rounded up just a few recipes you might choose to put into action for a little party this coming weekend.
First off, Savory Baked Ricotta from one of my new favorite blogs, Seven Spoons.  Any recipe with cheese, especially if it's a dip, gets bonus points with me.
Second, a quick and super easy Shrimp Dip.  Using pretty basic ingredients, you can create a savory, tasty dip that won't require any heating up.  Add crackers and you're good to go.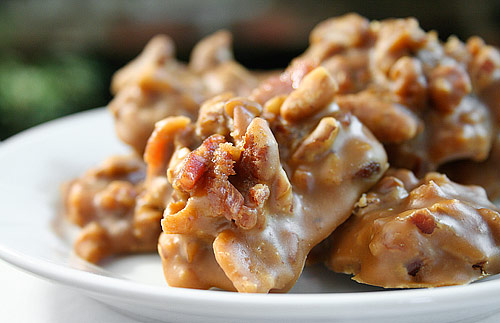 Third, something for a sweet tooth, Ezra Pound Cake (we love her, too!) delivers Buttermilk Bacon Pralines.  It doesn't even seem right that such a thing should exist, but it does, and we are forever thankful.  Seriously, it seems that bacon has made its way around to every arena of food these days.  No longer just for breakfast, or BLT's, or even a hearty potato soup, now we see bacon in ice cream, in mayonnaise, on donuts, and there is probably a bacon cocktail lying and waiting somewhere.  Maybe it's just that we're Southern folks down here, but pralines can't be passed up at a party.  Sweet, crunchy, and small enough for handfuls so there's no evidence of how many you've consumed (unlike cupcake wrappers), these are great to prepare ahead of time for your next party.
I hope you all have a wonderful weekend and begin enjoying the warm weather, friends, and good food that's headed your way this summer.
Cheers!
Please follow and like us: