Every holiday season you are on the hunt for something different. Something to make your gifts stand out from the rest. Something impressive. Have you considered ordering custom ribbon? It's just the thing to make every gift you give a little more special. Below are a number of ways you can use personalized ribbon.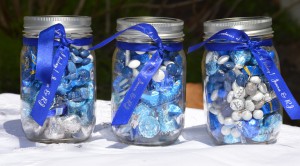 Gift-giving
At the holidays, we often share smaller gifts with co-workers, neighbors, church and club members. To make yours feel more personal, use a custom-printed ribbon or bow. It adds a nice touch and feels more personal, even if the gift is something you are giving to several people.
It can be used for cookie exchanges, white elephants and grab bags. Cute for Secret Santas, too.
It's also a neat way for bakers and home-chefs to be able to give a signature touch to their holiday treats, both sweet and savory.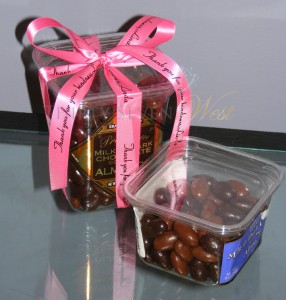 Corporate gifts
Do you own a business? You may be sending gifts through the mail or having them delivered to your clients.
Wouldn't using ribbon, custom-printed with your company logo make your gift distinctive? Use it to make your gifts look unique (and your boss look good.)
Decorating
What better way to put a personal touch on your home or office holiday decorations than with personalized ribbon?
Simple bows placed strategically can add a festive touch to any room. They can also dress up the exterior of your place of business or personal residence.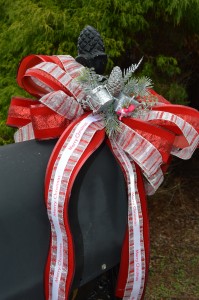 At home:
Put a simple bow on the doorknocker and on any lampposts or lighting fixtures.
Make a fuller bow to put atop the mailbox.
With just a little more effort, tie a simple sneaker bow on ornaments to customize in an instant. Hang them from any greenery you have displayed.
To cheer up your work place:
Wrap a ribbon around some greenery (fresh is preferable, but artificial looks just as nice!) and attach to the front door. Add streamers for more drama.
Tie simple bows around desk supplies like your pencil holder, tape dispenser or monitor.
Create fluffy bows for use on potted plants. You could also use tiny bows to decorate the branches, just like a Christmas tree.
Wrap pictures in solid-colored paper and finish with custom ribbon, looks just like a present.
Decorating simplified.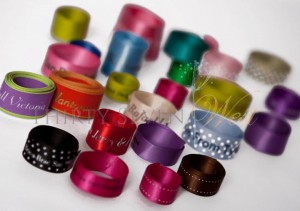 Which ribbon?
With so many options of custom ribbon to choose from, it can be hard to decide which way to go. Satin or textured? Wide or thin? In a solid color or with some kind of pattern?
First think about the primary use for your ribbon. Is it to decorate for the holidays? Use to wrap gifts? Meant to be used all-year round? Once you make that decision, it becomes easier to narrow down your choices.
You could go traditional, say something in Christmas red or Chanukah blue, with a simple holiday greeting, like "Happy Holidays" or "Seasons Greetings."
Or, you could decide to do something a little unexpected. Perhaps something in a subtle pastel? Or would you like to go bold with a bright neon.
And you could choose to make it truly one-of-a-kind by printing your name on the ribbon. Try something like:
Happy Holidays from the Smiths
With Love from Jenna
Blessings from the Bryans
Or what about using a favorite saying on the ribbon? A line from a holiday classic? A bible verse? A refrain from a Christmas carol? The possibilities are endless!
With so many ways to use these ribbons, you'll find yourself discovering new applications for it, everywhere you look!
Try a custom ribbon from Thirty Seven West this holiday season. You'll fall in love with just how fun and versatile it is to use. Bet you'll want to use it all-year round! Start designing your custom ribbon here: http://www.thirtysevenwest.com/personalized-ribbon/
Please follow and like us: