Many small business owners are constantly looking for ways to help their businesses strive in today's economy. There are many challenges they must face because of the larger businesses that have practically taken over the business world. It seems people like the convenience of the "shop for everything in the same place" store. More and more often though, people are looking to return to the small businesses in their communities.
Using custom logo ribbon can help small businesses market their enterprise with elegance and effectively enhance name recognition while adding a personalized touch to their products at the same time. Creating business ribbon with your company's logo on it can help spread the word of your company and your products and create a lasting positive impression of yourself.
For example, several years ago my niece gave me a beautifully carved wooden nativity scene. Collecting nativity scenes is one of my favorite hobbies. Later on, I decided I would like to see what other types of nativity scenes the company carried; however, there was no company name on the nativity scene I received. When I asked my niece where she purchased it, she told me she had purchased it at a kiosk in the mall, but she had been to several different malls while Christmas shopping and could not remember which one.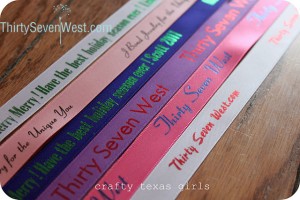 If the owner of the business had added a custom logo ribbon, I would have been able to search online and find the business. This overlook on the business owner's part ended up costing him or her future sales. It probably cost him or her the business of more people than just me for similar reasons.
By adding custom logo ribbon, small businesses can help consumers track them down in order to make future purchases. This becomes a domino effect. If people like your products, they will continue shopping at your business. There will no longer be the worry of wondering if people who shop with you will remember the name of your business because you have given them something with your personalized logo on it to help remind them.
When people become frequent customers, it is inevitable they will begin advertising for you via word of mouth. Your merchandise will be in their homes. At some point they will have guests in their homes who will take notice of your work. Those guests will ask where he or she got the item or better yet, they will see the custom logo ribbon attached, and ask where you are located.
Your business's personalized ribbon becomes a form of advertising. Larger companies spend countless dollars on purchasing advertising every year, anything from television commercials and online ads to billboards. Small businesses simply cannot afford to spend as much money on advertising as the larger businesses. Custom logo ribbon is an inexpensive, yet effective way to advertise for your small business.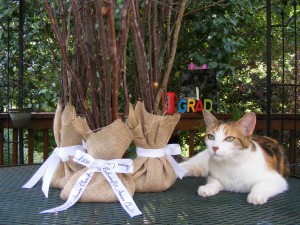 As a small business owner, it is important you keep your expenses down in order to retain a profit. Saving money on advertising is more money you can put elsewhere in your business or in simply trying to survive in today's economy. A dollar simply does not stretch as far as it used to.
Another way personalized ribbons can benefit your small business is by adding a personal touch to your product. In general, most people like to feel connected in some way when possible to other people and even the products they buy.
I was recently in a small business in a town a couple of hours away from home. We were attending a softball tournament, and although it was October, it was unseasonably cold that day. I walked in to a small shop beside the restaurant where we ate lunch at and was immediately drawn in to this quaint shop.
The outside door was purple and yellow, and the window was decorated with a colorful display of the merchandise. The presentation of the outside of the store simply invited me in. I would go so far to say that it beckoned me to come in. Upon entering, I was greeted by an extremely pleasant young lady with kind eyes and a smile. Most of the merchandise had been hand made by her.
She and I talked for a while, and I ended up buying a crocheted hat to wear on my head for the rest of the day. It quickly became my favorite. Every time I wear that hat, I think about the lovely conversation I had with its maker. While I am certain I could find her shop again, I cannot remember her name or the name of her business. If she had personalized her products in some way, it would help me remember. Her business is two hours away, but if I had the name of her business, I would definitely try to see if it were possible to purchase items from the internet. She made a personal impression on me. Her kindness makes me want to give her more of my business, not to mention the quality of her product.
Thirty Seven West understands the struggles small business owners are undertaking on a daily basis. One of our main goals is to help make advertising easier for small businesses in a way that not only is cost effective but also adds a personal touch to your product. Whether your business already has a custom logo and you simply need to order your logo ribbon or you need help in designing a personalized ribbon for your business, you have come to the right place.
I cannot believe any small business owner wants to be like the one I mentioned earlier that was unattainable and forgotten because there was no way to trace the business my niece bought the gift from. Custom logo ribbon creates an easy, elegant way for your customers to find you again, but it also provides an affluent touch and demonstrates the pride you have in your quality product. Contact us today to discover more about this versatile, affordable marketing technique.
Please follow and like us: