It's almost Mother's Day and everyone will be going pretty much overboard with preparations to make their mother's feel special. While the sentiment of love between a child and their mother is quintessentially pure and personal, it is common for everyone to join in on the festivities of the day that celebrates MOTHERS!
Obviously, people will be out looking for a token of love and appreciation for their mothers and it doesn't necessarily have to be anything fancy – but our Mother's Day special custom printed ribbon can make anything go from simple to fancy in no time.
Now we know all you retail stores out there are looking for unique ways to do something special this Mother's Day and we've got a bunch of them that you can use with our custom Mother's Day special ribbon. Here's what you can do:
Create Custom Gift Boxes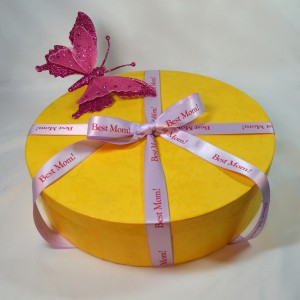 Every mother is special and that calls for a little something extra to make her feel that way. Allow your customers the opportunity to customize their gift boxes to suit the interests of their mothers. There could be something for the mother who loves knitting (some colored yarns and the needles), the mother who deserves some relaxation (soothing bath bombs and some relaxing essential oils), or a surprise for the nifty moms who love to create DIYs!
Once they decide what they want to add into their customized gift boxes/baskets, add the finishing touches with our decorative ribbon and butterfly.
Mugs Make Great Last Minute Gifts
Mugs are always the go-to options for people who remember they have to get a gift for their mothers at the very last minute. You probably already have those "Best Mom", "Mom We Love You" mugs on the racks for sale – why not make them a little bit more appealing and special?
Wrap the pretty pink ribbon around the mug itself, or cover it in clear plastic before sealing the package off with some love and ribbon. And there you have it – a last minute gift that looks great and carries a hint of effort too!
Assorted Chocolates are Winners
When nothing works, chocolates do! That's where you can get creative and come up with something that is just too good for your customers to resist. There are already a number of chocolate gift boxes available in the market. In order to make yours special, you need to mix and match some. Create an assorted chocolate box by adding in different types of chocolates. Don't hesitate to create themed assortments if you'd like – chocolate with nuts, chocolate with fruits, chocolate with marshmallows – the combinations are endless!
And you know what will make this gift look picture perfect for the occasion? Our Mother's Day Special ribbon!
Make the Candles Work
Scented candles are amazing. They make great décor items and bring utility too. It's an additional perk if these candles are infused with herbal extracts that can calm and soothe the surroundings. Wrap each of these candles individually and tie the ribbon to add the finishing touches. You can even create a gift package by including complementing bath essentials with them to make the gift more thoughtful and special.
That's all from us today. Here's wishing everybody a very Happy Mother's Day!
Please follow and like us: