"I Can't Help Falling in Love with Thirty Seven West!"
"Wise men say only fools rush in, but I can't help falling in love with you." – Elvis Presley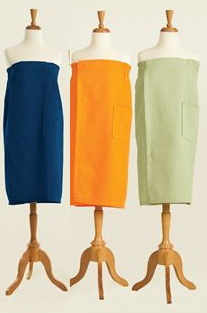 Wonderful Waffle Weave Wrap
You can pamper your Valentine in luxurious indulgence this year, by giving the gift of cottony softness with a fabulous waffle weave spa wrap. This perfect Valentine's Day gift is highly absorbent and is the essential cover-up for the pool side or the beach.
Which is why for our next free February give-away, we're awarding one lucky winner this wonderful waffle weave wrap.
With it's classic lines, durable cotton weave, and incredibly soft texture, our classic cotton waffle spa wrap makes an excellent gift for anyone. Offering an adjustable Velcro closure, a handy side pocket, and an amazingly affordable price, you may just want to go ahead and order one for yourself.
The oversized side pocket is perfect for sunglasses, cell phone, glasses, or keys while at the beach or showering at the gym. While the Velcro closure assure an easy, custom fit.
The winner may choose a gorgeous navy, tangerine, or sage colored wrap, and all shipping and handling charges are included with the prize. (See contest rules and conditions for more information.)
Enter our free contest today for your chance to win this wonderful waffle weave wrap, and visit the personalized gifts section of our website for other great personalized bath gifts.
To enter, go to this link for Contest details: