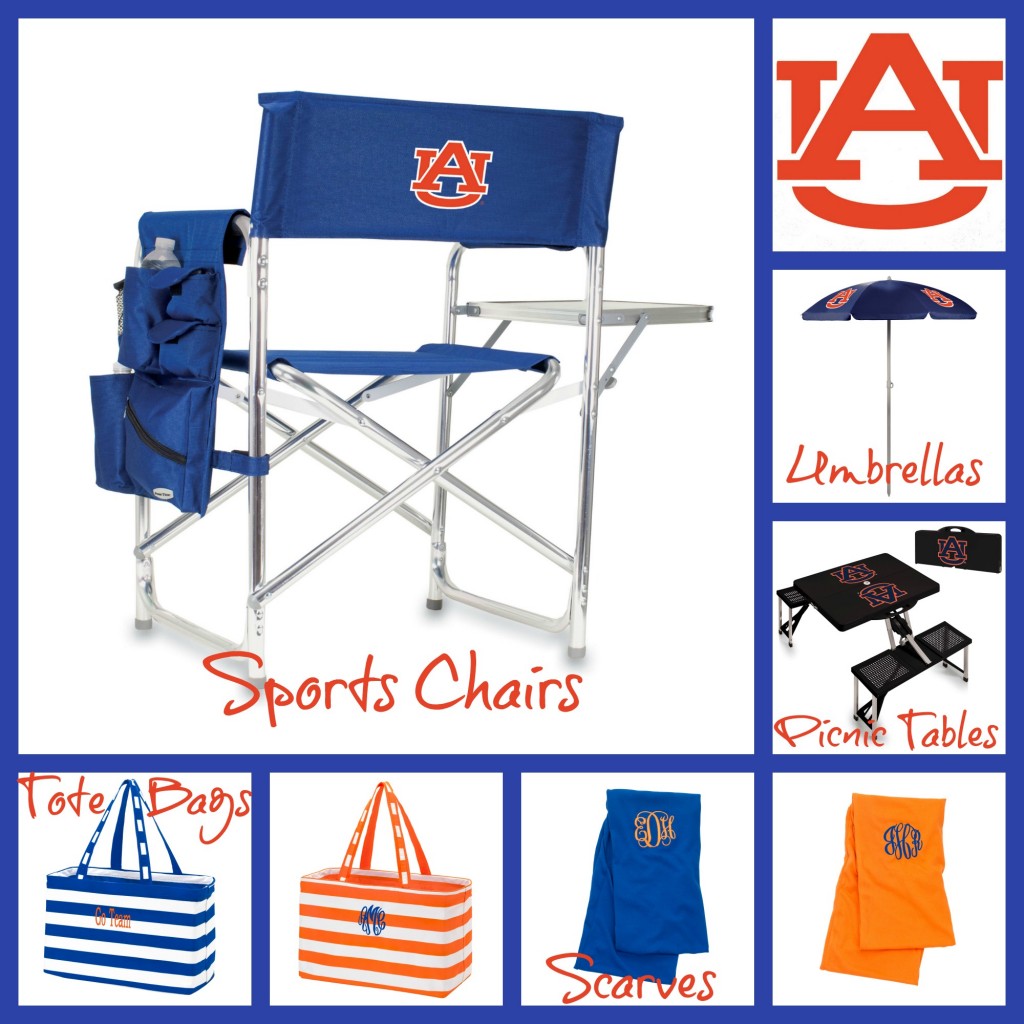 Are you a true Auburn fan?
Do you know to how shout, "War Eagle?"  Have you ever been seen rolling Toomer's Corner after a win?
If you regularly sport the blue and orange, there's no doubt which team you hold near and dear.  And if you're an avid fan, you're always looking for something new to show your support for Augie and the team.
So just how many ways can you display your Auburn pride?  We've got seven new ones to share!
Let's start with the ultimate in game gear.
Whether you are watching the game at home on satellite or lucky enough to be tailgating in the Jordan–Hare Stadium parking lot, you will be glad you've got this portable picnic table.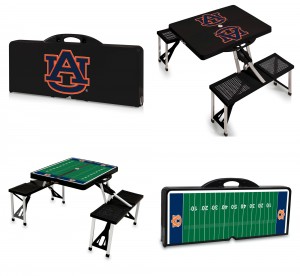 This compact table unfolds easily and seats four comfortably.  It has an aluminum alloy frame that is both lightweight and durable.  In fact, each of the four polypropylene seats can accommodate up to 250 lbs.
The picnic table is available in two styles, each with officially licensed logos.  One is a solid black tabletop with the Auburn University logo in the center.  The other is marked with its own gridiron and the Auburn logo in each of the end zones.  Perfect for playing paper football while you're waiting for the game to start.
This sports table is perfect for family get-togethers, reunions, or even a day at the beach. It even folds into its own carrying case that proudly displays the displays the Auburn University logo.
The spirited sports table even has a hole in the middle for an umbrella.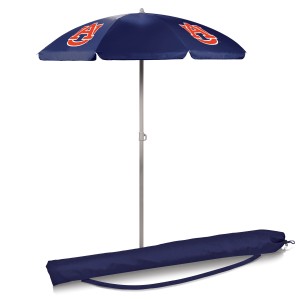 Speaking of umbrellas…how about your very own, officially licensed 5.5′ across umbrella to shade you from the sun…or keep you dry in the rain.  And it just happens to fit perfectly into our picnic table, although it can be also be used on its own.
This umbrella comes in blue polyester with the Auburn University logo vividly printed on the canopy.  It opens and closes easily and also features a tilt option so you can vary the position to avoid the sun.  It also has a pointed end for easy penetration into the ground.
The matching drawstring storage bag has a handy carrying strap that makes this umbrella a breeze to handle and store.
What else could the serious collage football fan want?  How about the best seat in the house?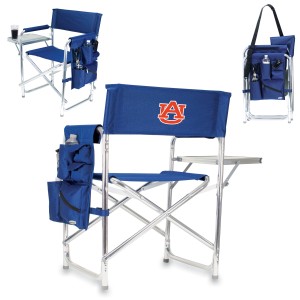 Take a look at our officially licensed, ultra-comfortable sports chair.  It's perfect for sitting out on the porch, the campground or even a dorm room.  It is durable and lightweight, with an extra wide padded seat. Even the armrests are padded for maximum comfort.
In fact, this chair is maxed out in every way.  On one side, it has a table that folds out conveniently.  On the other side, there is a multi-pocketed accessory panel that can hold a variety of items and even includes an insulated pocket for your beverage of choice.
You can take it wherever you go.  It folds easily and features 600D strong polyester material and supports up to 300 lbs.
Showing your team spirit couldn't be more comfortable with a cozy blue scarf made of premium polyester.  It will keep you warm in the stands and everywhere you go during football season.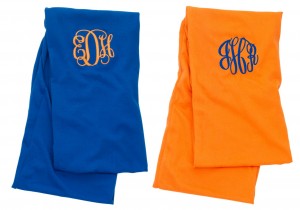 You can also personalize it with up to three letters in your choice of colors (we're thinking orange) to make it all your own. It measures a generous 9" wide by 72" around, so there are a variety of ways you could wear it.
And this comfy scarf is also available in bright orange, which you could also embroider with blue initials.  Buy one for yourself and the other color for your bestie.  You could wear them to every game.
Everyone can use an extra large tote bag.  While women already appreciate the myriad of uses for a roomy tote, men can also benefit from a sturdy bag that can carry all of the necessities, whether going to a game, a tailgating party or the beach.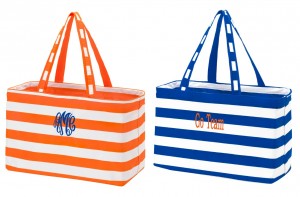 The extra large blue and white nautical stripe Game Day tote is made of a strong polyester material that is easy to clean.  And you won't need to miss a play because you are digging in your bag for something—inside are six roomy pockets you can use to keep things organized.
Pack it with food and beverages for this weekend's game, or use it to hold everything you need for a few days at the beach.
Perfect for personalizing, this quality game day bag can also be monogrammed in your choice of colors, but we recommend orange.  And you guessed it—this attractive bag is also available in orange and white stripes, with your choice of monogram.
So how are you going to show your Auburn Pride?  You could go big with a whole tailgating ensemble: the folding picnic table, logo umbrella and sports chair.  Or you could choose to support your Tigers with something blue and orange you can wear all year round whether you are attending a game or just running errands.  Either way, you can't go wrong with any of these quality items from Thirty Seven West.
These items make great gifts too.  Order one for every Auburn fan on your list: http://www.thirtysevenwest.com/auburn-university/